Opening of the Maison Vélib'EXKi
---
If you love bicycles and healthy food, you will be thrilled to hear about the opening of this new Parisian establishment, which will probably become your favorite place in the city. The Maison Vélib'EXKi is the very first "Coffee-Bike" in France. It was born after a partnership between the mairie de Paris and the fast and healthy food chain EXKi. They wanted to create a space for the Vélib' community that emerged over the years, and to promote a modern and eco-friendly lifestyle. Vélib' lovers can enjoy the ride-in, which enables them to buy lunch without getting off their bike. All the meals are cooked with fresh and natural products, from salads and sandwiches to casserole dishes. The coffee-bike also has a store area, where you can buy Vélib' by-products and many innovations for cyclists. Cherry on the cake: a Vélib' station should be installed just in front of the restaurant soon.
Open Monday - Friday from 8am to 9pm and on Saturday from 10am to 9pm.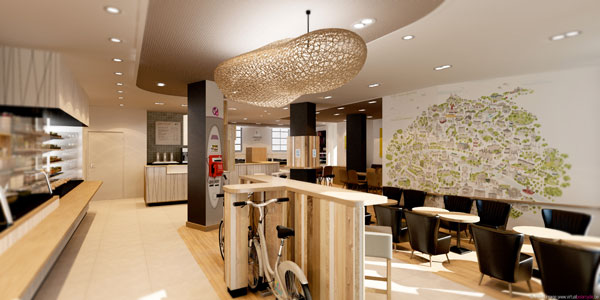 All rights reserved
La Maison Vélib'EXKi
22, rue de la Chaussée d'Antin
75009 Paris
France
Tel: +33 (0)1 44 83 09 01
Metro: Chaussée d'Antin - La Fayette (lines 7 and 9) and Opéra (lines 3, 7 and 8).