Exhibition: Le Magicien d'Os, Sculptures de Quentin Garel
---
Until September 12th, 2016, the Muséum national d'Histoire naturelle displays in the Galerie de Paléontologie et d'Anatomie Comparée—then in the paths of the Jardin des Plantes—12 works of French sculptor Quentin Garel. The artist structures his work on two topics: animal trophy and palaeontological remnants. He suggests then to think about the complex relationships maintained by human with the animal. For 'Le Magicien d'Os', he unveils monumental works, among which a cat's brain weighing around 176 lb or a vertebra with nonstandard measures—emerging from the ground. At their sides, preparatory drawings in large format as well as sketches are also exhibited. By the way, the sculptor uses different materials to create his works like wood, bronze or cast iron—playing therefore with textures. His creations are a wink to the classic animal sculptures.
Exhibition 'Le Magicien d'Os – Sculptures de Quentin Garel', from March 16th to September 12th, 2016.
Open every day except on Tuesday, from 10am to 6pm.
Full rate: €7 / Reduced rate: €5 / Free under 26.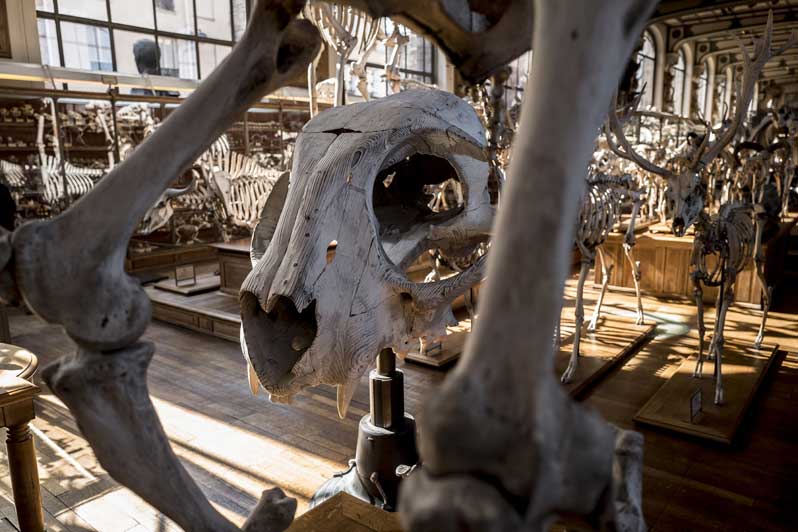 FELIX © MNHN Bruno JAY
Muséum national d'Histoire naturelle
57, rue Cuvier
75005 Paris
France
Tel.: +33 (0)1 40 79 56 01
Metro: Jussieu (lines 7 and 10).