Exhibition: A T-Rex in Paris
---
Prepare to shiver with fear at the Jardin des Plantes… From June 6th to September 2nd, 2018, the Galerie de Minéralogie et de Géologie (Gallery of Mineralogy and Geology) is welcoming a quite terrifying guest: a Tyrannosaurus rex also known as T-Rex. Divided into three parts, the exhibition "A T-Rex in Paris" immerses visitors in the Cretaceous era, before making them face Trix, a Female T-Rex unearthed in Montana, in the United States, in 2013. It is the first time that a real T-Rex skeleton is presented in France. This 30-year-old 4 meter-high and 12.5-meter-long specimen is one of the three most complete Tyrannosaurus rex skeletons in the world. 75 % of bones are in perfect condition, especially the skull, which is the event's centrepiece. The third section is dedicated to children, with eleven modules focused on to the T- Rex palaeobiology, its brain, eggs, preys or animal fights. So, if you are fascinated by dinosaurs, don't miss this exciting and interactive exhibition!
Exhibition "A T-Rex in Paris", from June 6th to September 2nd, 2018.
Open every day, except on Tuesday, from 10a.m. to 6p.m.
Full rate: €14 / Concessions: €9.
The ticket also gives access to the Galerie de Paléontologie et d'Anatomie comparée (Palaeontology and Comparative Anatomy Gallery).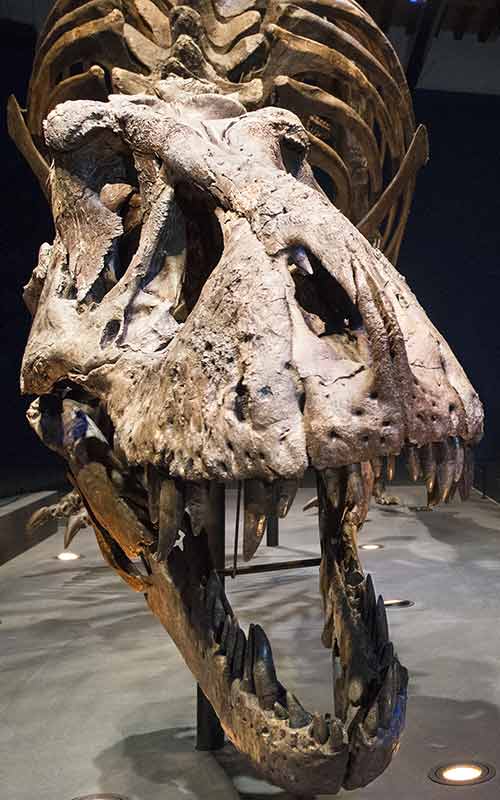 T.rex Trix
© Naturalis Biodiversity Center / Mylene Siegers
Galerie de Minéralogie et de Géologie (website only available in French)
Jardin des Plantes
36, rue Geoffroy Saint-Hilaire
75005 Paris
France
Tel: +33 (0)1 40 79 56 01
Metro: Gare d'Austerlitz (lines 5, 10 or RER C), Censier-Daubenton (line 7) or Jussieu (line 10).