Reopening of the Café de l'Homme: an emblematic Parisian address
---
Last November, after 5 years of public works, it was the turn of the Café de l'Homme to reopen its doors, after the musée de l'Homme. This sublime Parisian address owes its reputation to its exceptional setting and its patio with unrestricted view, nestled in front of the Eiffel Tower, above the Trocadéro fountains.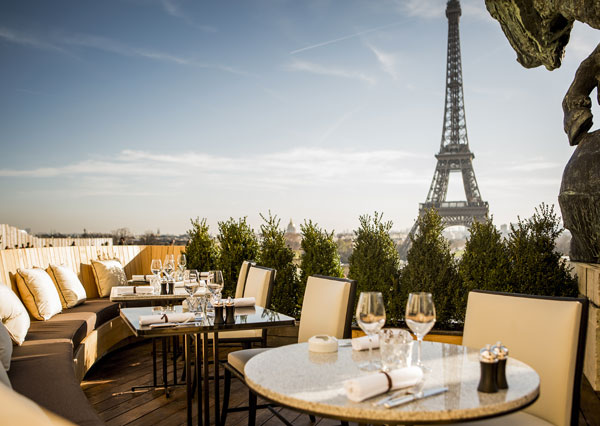 Photo credit: Pierre Monetta
A listed place
It is at the heart of the Palais Chaillot, conceived by architects Jacques Carlu, Léon Azéma and Louis-Hyppolite Boileau, for the 1937 World's Fair that this renowned establishment is set up since 2004. It is located near the musée national de la Marine, the Cité de l'Architecture et du Patrimoine, the musée de l'Homme and the Théâtre National de Chaillot, less than 10 minutes walking from the Green Hotels Paris, the Eiffel Trocadéro and the Gavarni.
A decoration inspired by the 1930s
The site has been entirely revamped by interior designers duo Gilles & Boissier, in a mineral and vegetable spirit, two themes dear to the decorative arts. In this way, the room is brighten up with marble and ash tables, walls are made of sandy brushed cedar, as for the patio, it adorns itself with chestnut seats and rattan chairs. Inside, patrons will discover an impressive clearance of one metre fifty, unveiling a mezzanine and lighting effects thought by lighting designer Alain Guilhot.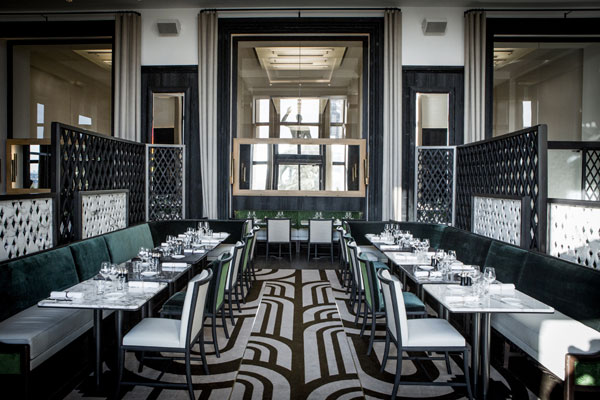 Photo credit: Pierre Monetta
A gourmet address
In the kitchen, we find again Chef Mickaël Foubert who signs a seasonal menu, highlighting as the products of the French terroir, as the new gastronomic trends of the four corners of the earth. This cooking of contemporary brasserie invite us to savour a bone-in beef prime rib (to share), a marinated rare Thai tuna with sauteed vegetables, or a wild sea bass with lemon-flavoured white butter. For the dessert, we let ourselves be tempted by the roasted apple, sugar pie and caramel with salted butter, which will make you irremediably fall back into childhood.

Photo credit: Pierre Monetta
The big plus: The very beautiful wines cellar of the restaurant, which contains 3000 references and notably 16 great vintages, modelled on the 1990 Château Cheval Blanc, or the 1986 Château Margaux (should be obviously consume in moderation).
Open daily from 12pm to 2pm.
Valet parking: €9 per car.
Café de l'Homme (in French)
17, place du Trocadéro
75116 Paris
France
Tel: +33 (0)1 44 05 30 15
Metro: Trocadéro (lines 6 and 9).