Anti-food waste solutions for Paris's restaurants
---
Since January 1st 2016, restaurants serving about 180 dishes per day must sort and recycle their waste (thanks to Methanisation, a process which transforms waste in energy or fertiliser). It is about the setting up of the 2013 pacte national de lutte contre le gaspillage alimentaire (2013 National Agreement Against Food Waste) (whose Paris has been the first signatory community) and the biowaste law, voted in 2010. According to the Synhorcat-GNI (cafe owners, hoteliers, restaurant owners syndicate), this mode of operation will enable to lower of 10% the volume of collected rubbishes. Establishments producing thus more than 10 tons of biowaste per yer, so about from 150 to 200 cutleries per day, must comply with this new rule. The aims of this action are to reduce the waste and produce biogas, a renewable energy obtained by the Methanisation process.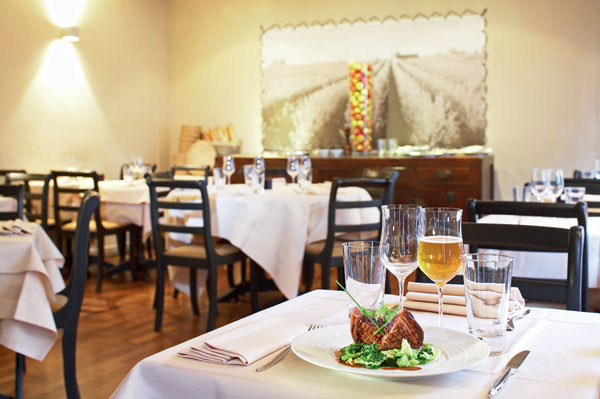 Pomze restaurant – Paris 8th © Paris Tourist Office - Photographer: Marc Bertrand
Doggy bags available for customers
Common practice in numerous countries, especially in the United States, the doggy bag enables to take the rest of one's meal at home and avoid waste. This is why, since December 10th 2015, the city of Paris and the restaurant owners affiliated to Synhorcat-GNI embark on the "Box anti gaspi" ("anti-waste box") operation, in proposing doggy bags to customers struggling to finish their dish (60% of inhabitants declare not to end their meal to the restaurant). 100 restaurants of Paris have from now on these bags made by French compagny TakeAway, without being obliged to distribute them: "The responsibility of the latter stops when the dish is given to the customer" explains the Synhorcat-GNI. A good initiative when we know that almost 57kg of biowaste are thrown away per year and per inhabitant, among which packaged and non-consumed rests and food products. These actions prove that Paris is heading for a greener future.
Discover the participating restaurants. (in French)