Exhibition: Laure Prouvost – Ring, Sing and Drink for Trespassing
---
For her first Parisian solo exhibition, "Ring, Sing and Drink for Trespassing", Laure Prouvost settles in the Palais de Tokyo, until September 9th, 2018. It is within the framework of the exhibition season "Enfance" that the French artist completely transformed the site. The visitors are invited to enter the artist's offbeat universe and venture into it. While strolling, the spectator meets a wide-open eye or giant breasts that turn into water games. To access the whole space, Laure Prouvost designed a curved corridor, a kind of wire mesh in which are nested branches, press clippings or rear-view mirrors. This geographical and mental scenography evokes a vague terrain where nature takes back its rights little by little. This retrospective is a few minutes' walk from the Green Hotels Paris, the Eiffel Trocadéro and the Gavarni, in the heart of the 16th arrondissement.
Exhibition "Laure Prouvost – Ring, Sing and Drink for Trespassing", from June 22nd to September 9th, 2018.
Open every day except on Tuesdays, from noon to midnight.
Full rate: €12 / Concession (for 18-25-years-old and above 60-years-old): €9 / Free for those under 18.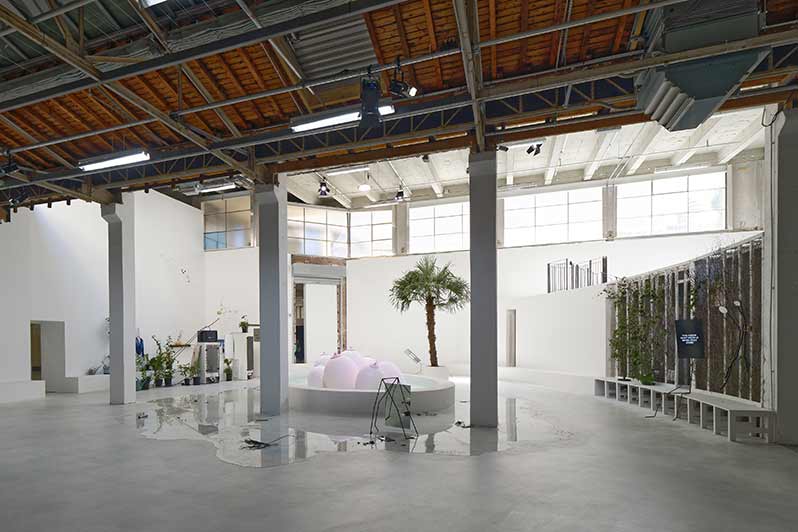 Exhibition view of Laure Prouvost, "Ring, Sing and Drink for Trespassing", Palais de Tokyo (22.06.2018 – 09.09.2018)
Courtesy of the artist and Nathalie Obadia (Paris / Brussels), carlier | gebauer (Berlin), Lisson Gallery (London / New York)
Photo: Aurélien Mole
Palais de Tokyo
13, avenue du Président Wilson
75116 Paris
France
Tel: + 33 (0)1 81 97 35 88
Metro: Iéna or Alma-Marceau (line 9).