Exhibition: Sonia Delaunay, the colours of abstraction
---
Sonia Delaunay, aided by her husband Robert Delaunay, was one of the pioneers of abstraction, playing an important role in the art from the XX century. She began in fauvism, immersed herself with fashion, posters for shows and mural decorations, which all prepared the abstraction with conviction. Today, the Musée d'Art Moderne de la Ville de Paris presents over 400 works of art, paintings, watercolours, prints and various textiles, some of which on a huge scale. It's the unique opportunity to (re)discover the work of an artist who is unfortunately still relatively unknown to the general public.
Exhibition "Sonia Delaunay: The colours of abstraction", from the 17th of October until the 22nd of February 2015.
Open from Tuesday to Sunday from 10am until 6pm.
Open late on Thursdays until 10pm.
Standard price: €11/ Reduced price: €8/ Free for under 18 years.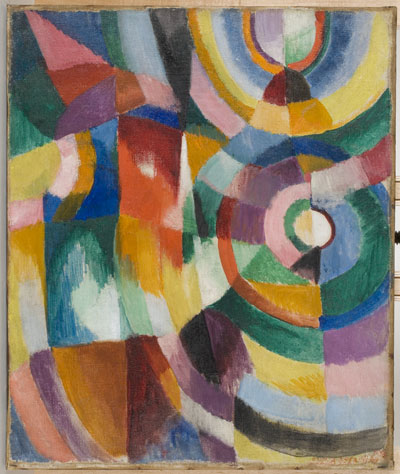 Sonia Delaunay, Prismes électriques, 1913-1914.
©Pracusa Museum at Wellesley College, Wellesley, MA, Gift of Mr Theodore Racoosin
Musée d'Art Moderne de la Ville de Paris (MAM)
11, avenue du Président Wilson
75116 Paris
France
Tel.: +33 (0)1 53 67 40 00
Metro: Iéna ou Alma-Marceau (line 9).