Exhibition: Paris Fleurs Sauvages
---
The wine storehouse of the Parc de Bercy hosts Magali Roucaut's photographs on the occasion of her free exhibition called "Paris Fleurs Sauvages" (Paris' Wild Flowers). These shots were taken between 2007 and 2013 in uncommon places such as the side of a road, wilderness fences or construction site railings. These photographs show that the presence of these wild flowers is due to randomness of insects' gathering of pollen, bird flights or winds. These plants have not required any human intervention to exist, they have find their place on their own and taken on the forms and colors we know so well. This leads to a variety of original ecosystems consisting of unusual landscapes, where city and nature become one. An exhibition, which has successfully seduced the Green Hotels Paris as it allows visitors to discover Paris' flora as well.
"Paris Fleurs Sauvages" exhibition, from June 25th to October 3rd 2015.
Open every day from 2pm to 7pm.
Free entrance.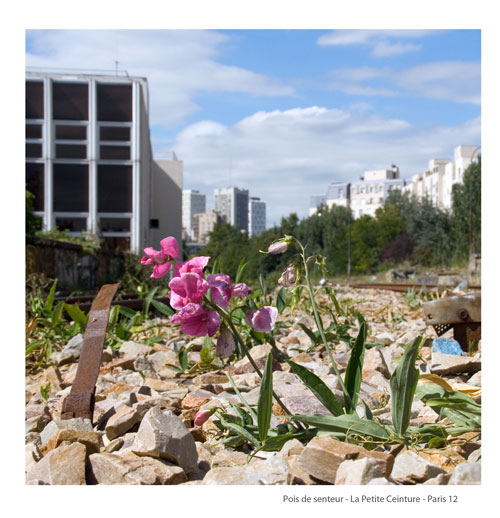 Sweet pea - Small Belt - Paris 12 © Magali Roucaut
Wine storehouse of the Parc de Bercy
128, quai de Bercy
75012 Paris
France
Metro: Cour Saint-Emilion (line 14).