Biotonique launches Synergies, a new range of Face and Body oils
---
The Swiss cosmetics brand Biotonique is launching a new range of facial and body care products. The family business created in 2014 by Béatrice Delmotte-Fichot and Paul Fichot expands its range with six 100% organic and natural synergies composed exclusively of vegetable and essential oils.
Personalize your beauty routine with Biotonique
Biotonique synergies make it possible to adapt your beauty routine to the needs of your skin, whether it is mature, aggressive, dull or sensitive. Just add a few drops to your day or night cream to see your skin change from day to day. Thus, the Synergie Anti-Âge (Anti-Aging Synergy) for the face, concocted with rose hip seed oil and essential oils of cistus, rose geranium and howood, regenerates and nourishes the skin in depth. The Synergie Raffermissante Corps (Body Firming Synergy) combines sesame, grapefruit, mandarin and lentisk oils to reduce the appearance of orange peel skin and provide a light leg sensation.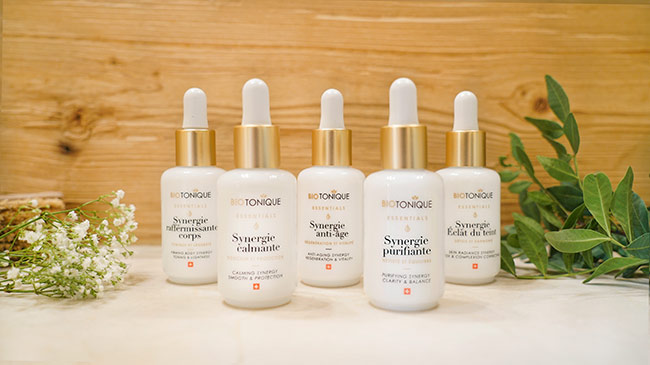 © Biotonique
The big bonuses: Biotonique also offers a Synergie Vitale for men. Enriched with sesame vegetable oil and Atlas cedar, sandalwood and peppermint essential oils, it refreshes and soothes the skin after shaving. In addition, Biotonique products are cruelty free and have recyclable packaging. A pure joy!
Biotonique products are available for sale on the brand's website (only available in French).
Synergie Visage Biotonique (30ml): €57,50.
Synergie Corps Biotonique (30ml): €54,50.