Exhibition: Le Japon au fil des saisons
---
With this new exhibition, the musée Cernuschi invites visitors to discover the powerful emotional connexion of Japanese people to nature through nearly sixty paintings on paper and silk. This retrospective entitled "Japan with the passing seasons" also describes the symbolism associated with each theme – flowers, birds, lanscapes – since the 8th century. This strong cultural tradition persevered through the ages, with a stylistic renewal during the 18th and 19th century. A beautiful opportunity to gaze at masterpieces by Ike No Taiga (1723-1776), Tani Bunchō (1763-1840) and Maruyama Ōkyo (1733-1795).
"Le Japon au fil des saisons" exhibition, from September 19th 2014 to January 11th 2015.
Open every day from 10am to 6pm, except on Mondays and bank holidays.
Full rate: €8 / Reduced rate (for over-60s): €6 / Half-price (14-26 years old): €4.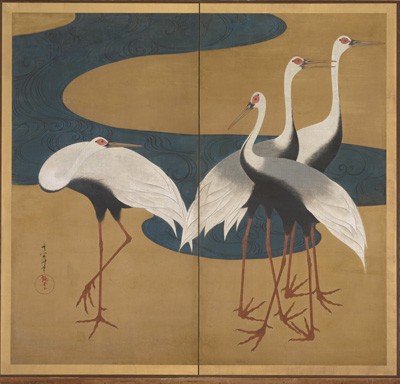 Suzuki Kiitsu (1796-1858) - Cranes
Pair of two-panel folding screens; ink, colour, and gold-painted ground on paper
Each screen: 175 x 164,8cm
Harvard Art Museums
Promised gift of Robert S. and Betsy G. Feinberg
FEIN. 147
Musée Cernuschi
7, avenue Vélasquez
75008 Paris
France
Tel: +33 (0)1 53 96 21 50
Metro: Monceau (line 2).