Exhibition: The making of romance, Charles Nodier and the picturesque journeys
---
Le Musée de la vie romantique (The Museum of the romantic life) welcomes one of the biggest figures of French Romance: Charles Nodier (1780-1844). This essay writer and novelist was the head of the works, by the sides of the baron Taylor, the "The picturesque and romantic journeys in ancient France". This huge engraved art work of 24 volumes describes the French provinces in a historical and picturesque way. The exhibition especially evokes the influence of this curation on the production of the pictures from the first half of the XIX century. For the anecdote, this creation has been allowed to introduce a reflection of the protection of historical monuments in France.
Exhibition "The making of romance, Charles Nodier and the picturesque journeys » from the 11th of October 2014 until the 18th of January 2015.
Open every day from 10am-6pm, apart from Mondays and Bank Holidays.
Standard price: €7.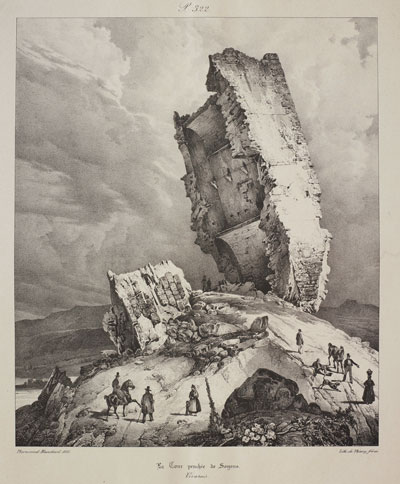 Pharamond Blanchard (1805-1873),  La Tour penchée de Soyons, Languedoc, 1834, vol. 2, part. 2, pl. 322
© Paris, Fondation Taylor / Thomas Hennocque
Musée de la vie romantique
16, rue Chaptal
75009 Paris
France
Tel.: +33 (0)1 55 31 95 67
Metro: Pigalle (lines 2 and 12).