Exhibition: Covert
---
For 10 years, Kate MccGwire has been making unusual sculptures, covered in feathers from doves, pigeons, and crows, protected by cloches and old glass covers. Her work is inspired largely by stuffed birds, conserved under the cover of the glass that protect them against the dust or heavy-handedness of humans, that are in the natural history museums like these particular ones. The result is striking: the animalistic figures imprisoned under these cloches seem to be almost squeezed into them, giving the impression that they're asleep, ready to be awakened. An unusual and poetic exhibition, to discover until the end of January 2015.
Exhibition "Covert", from the 21st October 2014 until the 26th January 2015.
Open from Tuesday to Sunday from 11am-6pm.
Open late on Wednesday until 9.30pm.
Standard price: €8 / Reduced price (under 26years): €6.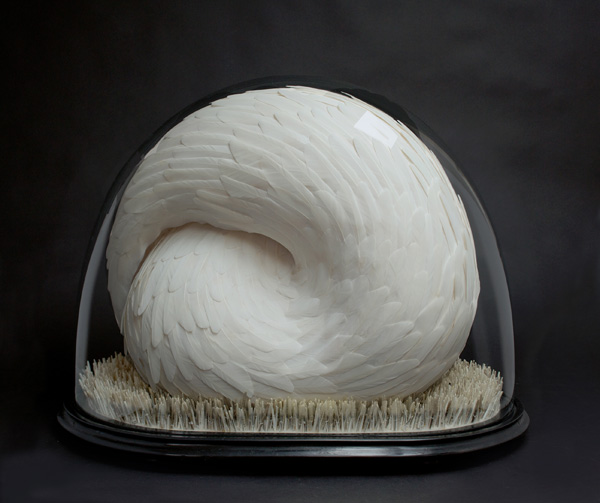 © Kate MccGwire - La Galerie Particulière. Cliché : J.-P. Bland
Musée de la Chasse et de la Nature
62, rue des Archives
75003 Paris
France
Tel.: +33 (0)1 53 01 92 40
Metro: Rambuteau (line 11) or Saint-Sébastien-Froissart (line 8).