Exhibition: Elisabeth Louise Vigée Le Brun
---
The Parisian Grand Palais hosts the first extensive French retrospective dedicated to Elisabeth Louise Vigée Le Brun, one of the greatest portrait painters of the 18th century. Originally from the petty bourgeoisie, the artist soon finds her place among the greats of the realm until becoming the official painter of Queen Marie-Antoinette. This vast retrospective features around 130 of the painter's artworks and is organized together with the National Gallery of Canada, in Ottawa, and the Metropolitan Museum of New York.
"Elisabeth Louise Vigée Le Brun" exhibition, from September 23rd 2015 to January 11th 2016.
Open Tuesday to Saturday from 10am to 10pm, and Sunday to Monday from 10am to 8pm.
Full rate: €13 / Concession (16-25 years old): €9.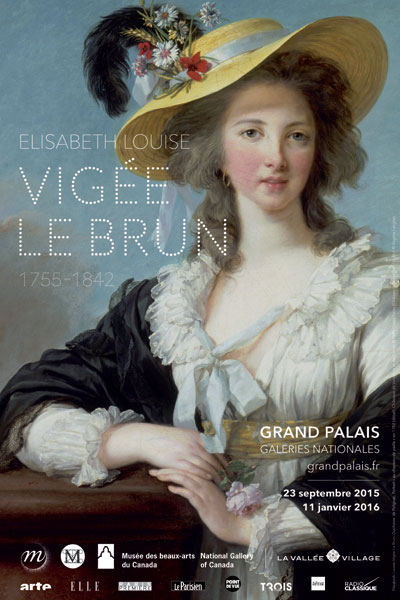 Élisabeth Louise Vigée-Le Brun - © Poster Rmn-Grand Palais, Paris 2015
Grand Palais
Nave of the Grand Palais
Avenue Winston Churchill
75008 Paris
France
Tel: +33 (0)1 44 13 17 17
Metro: Champs-Elysées-Clemenceau (lines 1 and 13).