Carolyn Carlson is back with 'Now'
---
After 'Pneuma' last February, famous American choreographer Carolyn Carlson is back with 'Now' already performed a first time in 2014 at the Théâtre National de Chaillot. Not far from the Green Hotels Paris—the Eiffel Trocadéro and the Gavarni— it's a show full of grace which awaits you.
Dance as an everyday language
Placing philosophy and visual poetry at the heart of her works, Carolyn Carlson has created more than around a hundred works. From Venice to Paris via Stockholm, she has been fitting into a big name of contemporary dance through time. In 'Now', it's the everyday life which is told thanks to a few accessories like a French window or a table, with home as a reference point. This latter also brings out our relation with time and the cosmos. With music by René Aubry—a long-time partner—this group play is inspired from Gaston Bachelard's work 'The Poetics of Space' as well as from written works by Rudolf Steiner, two writers studying man from both its private and metaphysical angles. Drawing too from tai chi, qi gong and martial arts, the choreographer allows us to recognise in this performance all the visual and imaginary poetry of her most famous plays. Finally, Patrick Besombes' lightings, the photos and videos broadcast complete the dance, considered here as a real universal language.
'Now' by Carolyn Carlson, from September 23rd to 30th, 2016.
Performances at 8:30pm on Friday 23rd, Saturday 24th, Tuesday 27th, Wednesday 28th and Friday 30th ; 7:30pm on Thursday 29th and 3:30pm on Sunday 25th.
Full rate: €35 / Reduced rate: €27 / Youth rate: €11 and 13.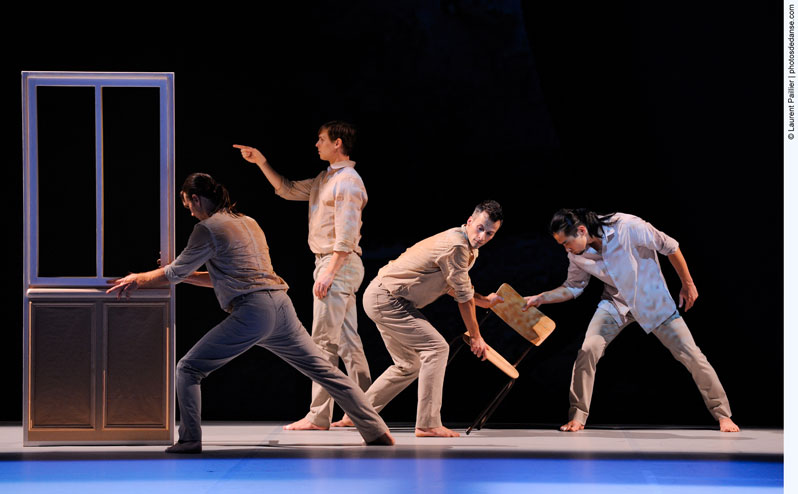 Now © Laurent Paillier
Théâtre National de Chaillot
1, place du Trocadéro
75016 Paris
France
Tel.: +33 (0)1 53 65 30 00
Metro: Trocadéro (lines 6 and 9) or Iéna (line 9).