Ant rally: when ants demonstrate against the deforestation of the Amazon
---
On August 19th 2015, 500,00 ants got into action at the Cologne Zoo in order to save the Amazon rainforest, as German Chancellor Angela Merkel flew to Brazil. Equipped with tiny banners made out of leaves, on which World Wide Fund for Nature (WWF) activists had engraved their claims, the leafcutter ants thus "marched" in their anthill for the viewing pleasure of visitors who had the opportunity of admiring this peculiar show. With slogans such as "Save the Amazon rainforest", "Solidarity" or "Merkel, help", this species of tropical ants expressed its discontentment with one specific goal: to protect the forest and encourage the Chancellor to commit in favor of the defense of the Amazon rainforest. Largest tropical forest in the world, the Amazon has long been endangered by deforestation and illegal mining exploitation. WWF here wishes to condemn the exploitation of the "green lungs of our planet", whose progressive destruction could lead to genuine catastrophes. An original way of drawing attention on issues that concern us all!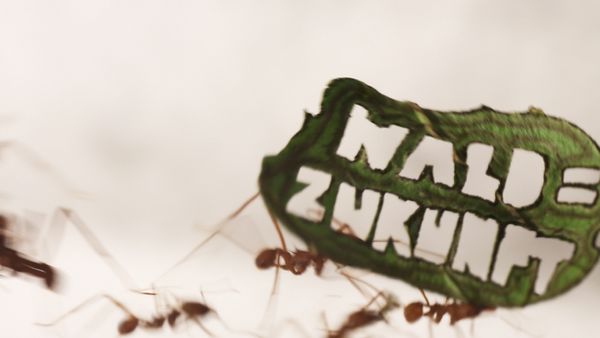 Ants and the "Wald = Zukunft" (forest = future) banner © WWF
More information on this event on the WWF Deutschland website (in German).