14th edition of the Festival Silhouette
---
From August 28th to September 5th 2015, the Festival Silhouette once again invades the lawns of the Parisian Parc de la Butte du Chapeau Rouge for a duration of 9 evenings of concerts and outdoor screenings. Celebrating its 14th anniversary this year, this cultural event brings a fresh perspective on the cinema through a selection of short films and concerts of all kinds. With around 100 films showed and close to 15,000 festival-goers, the unique atmosphere of this event has resulted in it being sacred the first outdoor short film festival in Paris, and this new edition, called "Faire le Mur" (Go Over The Wall), is an invitation to travel. Each evening will start with a concert, which will then be followed by the showing of documentaries, dramas, music videos, as well as experimental films to enjoy on your own or with your loved ones. The participations of Abdul & The Gang, A-Vox, Enz, Cars on Rooftops as well as Unibox are already expected for this 14th edition, which promises to be filled with discoveries!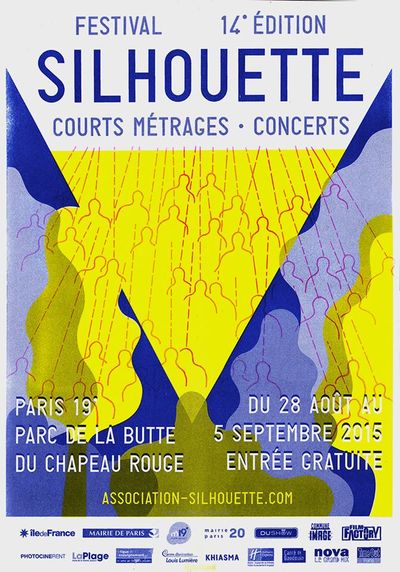 Official poster of the 2015 edition of the Festival Silhouette © Corentin Perrichot
Festival Silhouette (in French), from August 28th to September 5th 2015.
Free entrance.
Parc de la Butte du Chapeau Rouge
5, avenue Debidour
75019 Paris
France
Metro: Pré-Saint-Gervais (line 7bis).