The event "Gardens, Garden" celebrates its 10th anniversary!
---
Each year, the Jardin des Tuileries welcomes the event "Garden, Gardens", where landscape gardeners make wonders. Thus, about twenty gardens, terraces and balconies are laid out with fantasy, with present materials such as glass or steel. These modern-days gardens are part of a sustainable approach. The visitor can thus freely cross in these fairy green spaces and glean ideas for displays, layouts and respect of the environment for their home. For this 10th edition, you will be encouraged to play explorers, sometimes suspended over water on wooden pontoons, or lost in vegetable mazes. A universe your kids will be thrilled to discover!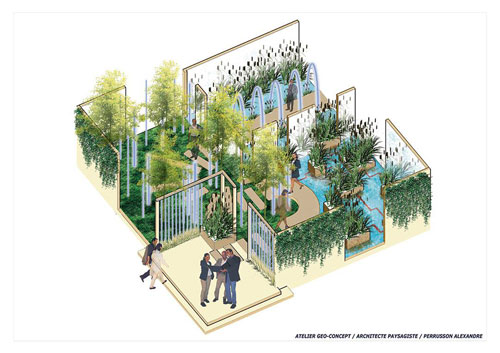 H2O invert - Design/Execution: N2B Arrosage
Bernard Bois S.A - Geo-Concept
Gardens, Garden, at the Tuileries, from May 31 to June 2, 2013.
Open on Friday and Sunday from 10am to 7pm, and on Sunday from 10am to 9pm.
Full rate: 12€. Reduced rate (for groups of 12+ persons): 9€.
Special Rate (for 18-25 years old, must show an id card): 7€.
Free for people less than 18 years old.
Entrance: Concorde (L. 1,8,12), Tuileries (L.1), Musée d'Orsay (RER C).