Exhibition: Paysages japonais
---
With "Paysages japonais, de Hokusai à Hasui" (Japanese Landscapes, from Hokusai to Hasui), the musée Guimet (Guimet museum) presents Japanese engravings over a period of three centuries and incites us to question the notion of landscape in engravings. Just a few-minute walk away from the Green Hotels Paris, the Eiffel Trocadéro and the Gavarni, it is thus possible to admire engravings of very different styles: genre and intimate scenes of Hiroshige, from the art of Ukiyo-e, modern engravings of Hasui Kawase, recently acquired by the museum, and even poetic engravings of the Edo era or of seasons, and famous locations of Japan. It is the opportunity to learn a little more about this art which celebrates the divine dimension of nature. Lastly, it is also the chance to be able to see the mythical "Grande vague" (Great wave) of Hokusai (Under the wave in the waters of Kanagawa, Kanagawa oki namiura).
Exhibition "Paysages japonais, de Hokusai à Hasui", from June 21st to October 2nd, 2017.
Open every day except on Tuesday, from 10a.m. to 6p.m.
Full rate: €9.50 / Concessions: €7 / Free for those under 18.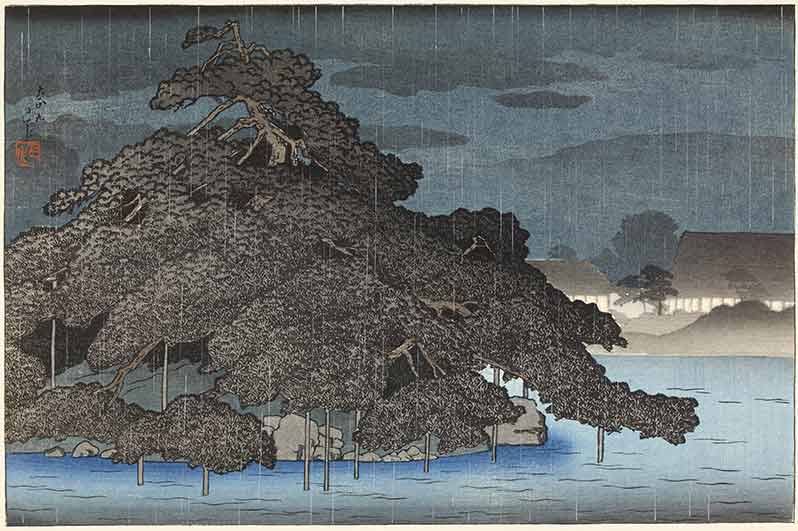 Pluie du soir sur Matsushima
Series of eight sights of the villa Fukagawa of the Iwasaki family
Kawase Hasui (1883-1957)
Paper, xylogravure shinhanga, format ôban
1920
Acquisition 2015
MA 12708
Photo © RMN-Grand Palais (musée Guimet, Paris) / Thierry Ollivier
Musée national des Arts asiatiques – Musée Guimet
6, place d'Iéna
75016 Paris
France
Tel: +33 (0)1 56 52 53 00
Metro: Iéna (line 9) and Pont de l'Alma (RER C).