Exhibition: Le climat change, l'océan aussi
---
Through 20 pictures, the Parisian Aquarium tropical de la Porte Dorée invites us to take a look on the research carried out by Ifremer (French Research Institute for Exploitation of the Sea), in relation to climate change. These researches do not cover all geographical areas of the world, nor do they take an inventory of all the problems, but they try to help the public comprehend the effects of global warming on the oceans. Organized as part of the COP21, planned for December 2015, the "Le climat change, l'océan aussi" (Climate changes, oceans as well) exhibition focuses on the impact of these changes on coastlines, water bodies and marine species. A retrospective, which matters to the Green Hotels Paris, for it allows the public to take a fresh look at the impact of climate change on marine environment.
"Le climat change, l'océan aussi" exhibition, from May 22nd to October 18th 2015.
Open Tuesday to Friday, from 10am to 5:30pm, and Saturday to Sunday, from 10am to 7pm.
Full rate: €5 / Concession (4-25 years old): €3,50 / Free for visitors under 4.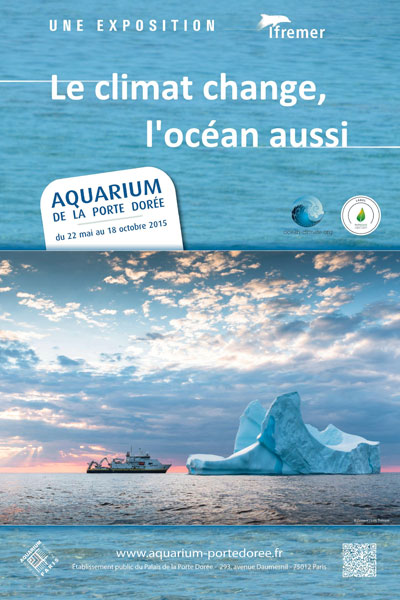 Credit: © Genavir / Loïc Treluyer
Aquarium tropical de la Porte Dorée (in French)
293, avenue Daumesnil
75012 Paris
France
Tel: +33 (0)1 53 59 58 60
Metro: Porte Dorée (line 8).