Exhibition: Je n'ai rien à te dire sinon que je t'aime
---
"I have nothing to say to you, except that I love you" may be one of the most beautiful declarations of love of all times, that of Léon Bloy to his fiancée Jeanne Molbech. The Musée des Lettres et Manuscrits is celebrating its 10th anniversary by dedicating an exhibition to love letters. Tens of letters are thus presented to visitors, written by Apollinaire, Chopin, Prévert, Cocteau, Piaf or else Musset. This retrospective is also the occasion to learn about this complex genre; the choice of words is decisive and delicate when it comes to express feelings that most of the time are beyond words. Jealousy, desire and erotism reign in the passionate love letters presented in this exhibition.
"Je n'ai rien à te dire sinon que je t'aime" exhibition, from September 17th 2014 to February 15th 2015.
Open Tuesday-Sunday from 10am to 7pm.
Late opening on Thursday until 9.30pm.
Closed on Monday.
Full rate: €7 / Concession: €5 / Free for under-12s.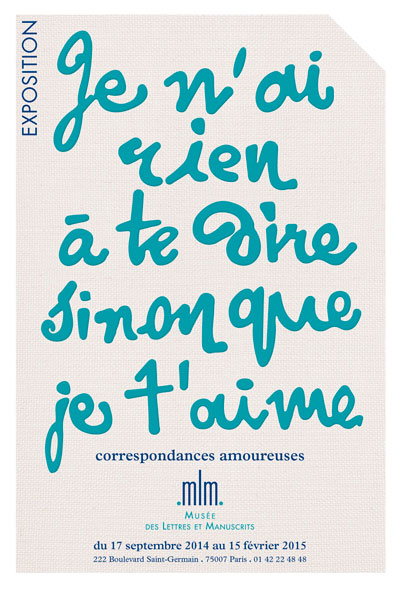 Private Coll./Musée des Lettres et Manuscrits-Paris
Musée des Lettres et Manuscrits
222, boulevard Saint-Germain
75007 Paris
France
Tel: +33 (0)1 42 22 48 48
info@museedeslettres.fr
Metro: Rue du Bac (line 12).