The 58 or Le Jules Verne: choosing your restaurant on the Eiffel Tower
---
It requires no introduction: with its 7 million visitors each year, Paris' good old Eiffel Tower has not aged a day and rather stands in the center of environmental measures. Her two 3-meter high wind turbines and  sustainable development-oriented terrace open until the end of August 2015 are a relevant proof of that fact. Aside from the stunning view on the capital, the Eiffel Tower also shelters some of the finest restaurants in Paris. Remember to book your table... long in advance!
The 58 tour Eiffel: sophisticated brasserie with a panoramic view
Picnic lunch or trendy dinner, enjoy a unique experience in the restaurant located on the first floor of the Eiffel Tower. Smoked salmon, supreme of guinea fowl roasted with herbs and chocolate-flavored "Crousti Eiffel"... the menu seduces as much as the breathtaking view on the Trocadéro. With its simple and tasty cuisine, the 58 tour Eiffel offers two different ambiances: one, more casual, for lunch, the other, dressed-up, for dinner. Last but not least: the fork set created together with Silodesign exclusively for the restaurant. A tine of each fork is cleverly shaped as an Eiffel Tower to guarantee a thematic and fun meal.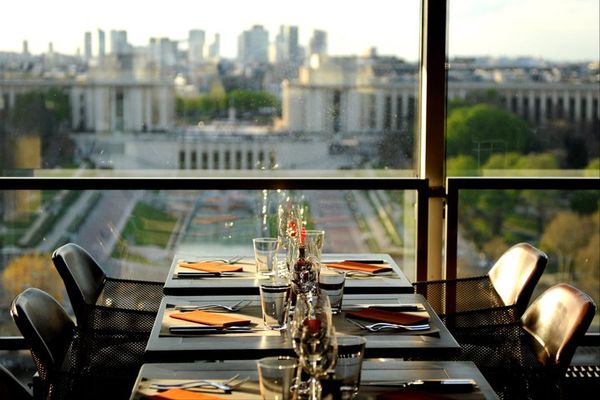 Dinner at the 58 Tour Eiffel © Facebook 58 Tour Eiffel
The 58 Tour Eiffel, open every day from 11:30am to 3:30pm and from 6:30pm to 10:30pm.
Lunch : €44 / Dinner : €77.
Le Jules Verne: gourmet restaurant
Paris' most popular restaurant, so much its location is breathtaking: from the second floor of the Eiffel Tower, we overlook Paris. Le Jules Verne is the key restaurant to discover contemporary French gastronomy. Assisted by his executive chef Pascal Féraud, French starred Chef Alain Ducasse endeavors to intensify flavors, all the while skimming the recipes: the turbot is cooked in a head sap and the beef tournedos is served with a fried foie gras toast. Stuffed Bresse poultry, tea-flavored orange and pineapple pie... The resolutely French recipes are here reinterpreted and served in a set of plates, whose aesthetic is directly inspired from the monument's framework! Regarding the sommellerie, 430 wine references from France's greatest vineyards are available to customers. Exceptional cuisine and refined flavors mix with design setting and uncluttered ambiance for a unique experience.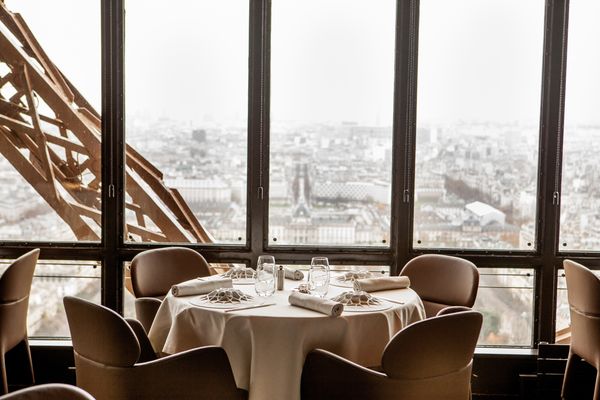 Table at Le Jules Verne © Pierre Monetta
Le Jules Verne, open every day from 12pm to 1:30pm, and from 7pm to 9:30pm.
Booking necessary from 1 to 3 months in advance.
From €105 to €230 depending on the menu.
Tour Eiffel
Avenue Gustave Eiffel
75007 Paris
France
Tel: + 33 (0)1 45 55 61 44
Metro: Bir-Hakeim (line 6) and Alma-Marceau (line 9).