Petite Fleur Folies, an ephemeral garden at the quai Branly
---
From June 18th to June 21st 2015, the Parisian quai Branly hosts Petite Fleur Folies (Small Flower Extravagance), a vast ephemeral garden presenting over 100 species of different flowers. Put together by Gad Weil, to whom we also owe the Nature Capitale event (a giant agricultural plot settled on the Champs-Elysées in 2010), this project stretches on the banks of Suffren, at the foot of the Eiffel Tower. Gad Weil, assisted by plastic-oriented artist and landscaper Laurence Médioni, is aiming to flower Paris again. Both have thus imagined ephemeral gardens in the hopes of putting the smile back on the Parisians' faces, and for its fiftieth anniversary, Yoplait has asked said street artist to create this 4,000-square meter ephemeral installation. A few feet away from the Champ de Mars, over 500,000 flowers will therefore be arranged on the ports de Suffren and de la Bourdonnais.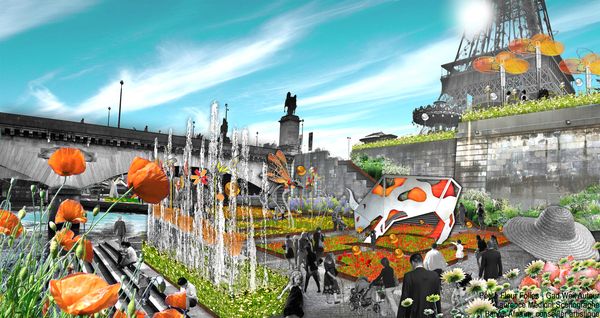 Petite Fleur Folies event © DR
An interactive event devoted to creation
Many activities will punctuate this free event, for the pleasure of children and adults alike. Eight original works designed by Gad Weil and Benoît Afnaïm will be showcased and will come to life upon visitors' approach. Called "Créatiles", these imaginary creatures covered with polyzinc and inspired by origami, will convey the values of opening up to the world, green implication, and preservation of biodiversity, at the center of the Yoplait brand's environmental approach. A perfect way to enjoy the sunny days near the Green Hotels Paris.
Petite Fleur Folies, from June 18th to June 21st 2015.
Free entrance.
Port de Suffren
75007 Paris
France
Tel: +33 (0)1 49 42 70 70
Metro: Trocadéro (line 9) or Bir-Hakeim (line 6).