32nd Chopin Festival at the parc de Bagatelle
---
Each year, the Chopin Festival pays tribute to the famous Polish romantic composer Frédéric Chopin and several classical musicians, from Beethoven to Schumann, as well as Liszt, Liadov or Schubert. As part of its 32nd edition, called "Autour du prélude" (Around the prelude), this lyrical event returns to the Orangerie of the Parisian parc de Bagatelle and features various concerts and recitals in a peaceful atmosphere. From June 20th to July 14th 2015, the Chopin Festival will therefore host many international musicians, who will perform famous sonatas, impromptus, suites and opus for the audience's pleasure.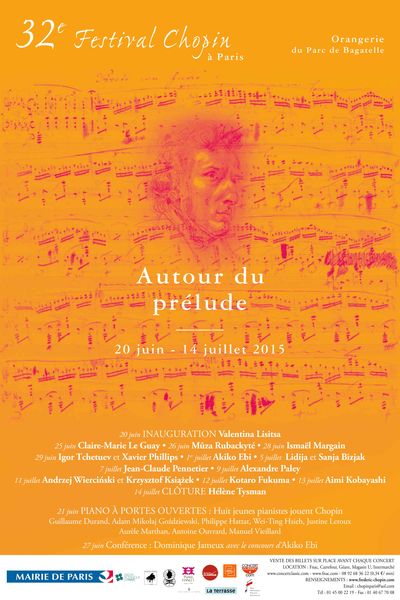 Official poster of the 2015 edition of the Chopin Festival © Société Chopin
Focus on the prelude
This year, each concert will start with a prelude by Chopin, and will be followed by a work of similar key. This 2015 edition will comprise an opening ceremony with Ukrainian pianist Valentina Lisitsa, as well as a free "open piano" evening on the occasion of the World Music Day, during which eight young artists will pay tribute to Chopin. The audience will also have the opportunity to enjoy concerts by candlelight, and listen to French pianist Claire-Marie Le Guay perform Beethoven, Rachmaninoff and Mantovani, or even, Igor Tchetuev and Xavier Phillips perform cello and piano sonatas by Debussy and Chopin. Visitors will finally have the opportunity to attend conferences on the Preludes by Chopin, and the festival will end with a closing concert performed by pianist Hélène Tysman. A major event of the summer, located a few feet away from the Green Hotels Paris.
Chopin Festival (in French), from June 20th to July 14th 2015.
Concert rate starting at €17 / Concert and conference rate: €10 / Concession available to students and members.
Free entrance after discharge of entrance fees to the parc on June 21st 2015.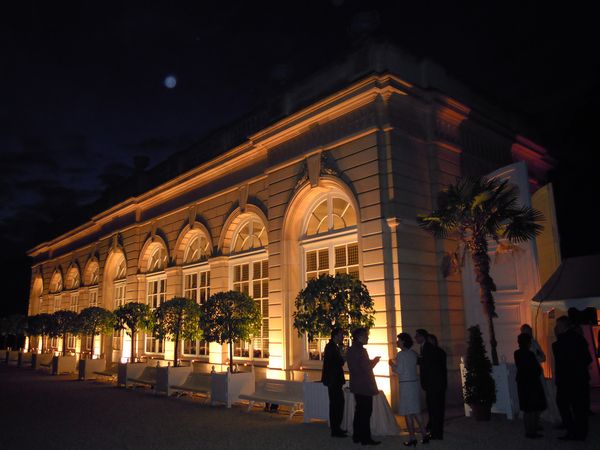 The Orangerie of the parc de Bagatelle © Société Chopin
Orangerie of the parc de Bagatelle (in French)
Bois de Boulogne
Grille d'Honneur
Allée de Longchamp
75016 Paris
France
Metro: Avenue Henri Martin (RER C).