The dangers of global warming on the Alps
---
If nothing is done to fight the global warming, the Alps mountains could lose from 30 to 70% of their snow cover by 2100, depending on the strength of the measures implemented. A disaster scenario observed by the searchers of the École Polytechnique de Lausanne and of the Institut pour l'étude de la neige et des avalanches (SLF).
Increasing temperatures
The Alps are particularly sensitive to global warming. According to Météo-France, whereas the average global temperature would increase of 1°C per year, it would increase twice in this mountain region. When the climate is warming, rainfalls and temperatures increase, and this can be especially well seen during winter. Therefore, the mountain snowfall is directly linked with those two criteria, and we notice, in the Alps in particular, that the snow is thinner on the floor, falls more and more later, less and less thick, and on always smaller areas. For the International Office for Water, the consequences can't only be noticed during winter, since the annual snow melt brings water to the alpine rivers. Yet, the snow being less abundant, those alpine rivers are less supplied with water, endangering their biodiversity.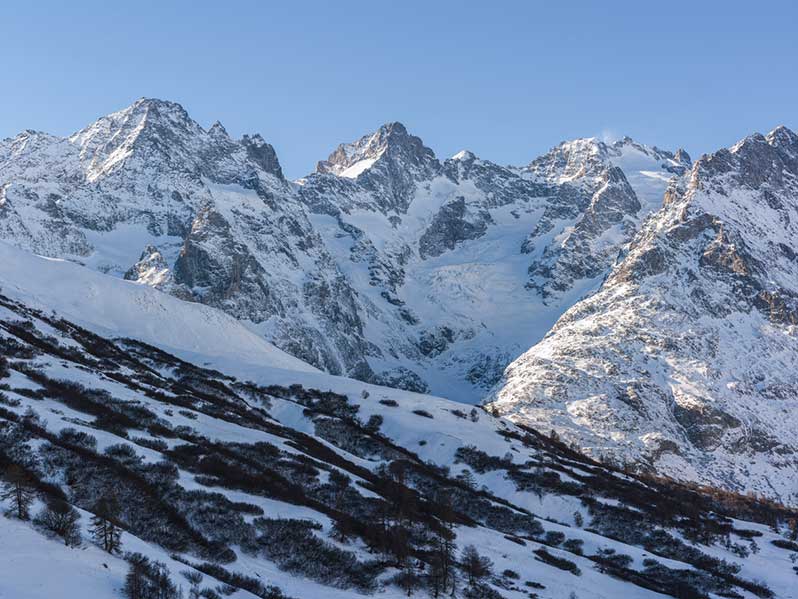 © iStockphotos
An effect on tourism
In 2008 already, the report by Noël Le Scouarnec and Ludovic Martin on the impacts of global warming on tourism ("Effets du changement climatique sur le tourisme"), showed that the winter temperatures were increasing more than those of the spring or summer. Meaning that the Alps seem to be warming up more during the period when they are the most visited by tourists, and all of the ski stations aren't quite ready to propose different and varied activities. As a result, the small stations experience difficulty to maintain their tourist numbers, because to practice winter sports needs a certain quantity of snow. However, to produce enough artificial snow is expensive and this way reserved to the main stations. So, unless drastic environmental measures were to be taken quickly, the small and big stations will all have to search for new ways to ensure their survival.
For further information, please do not hesitate to read the report of Noël Le Scouarnec and Ludovic Martin, available online in French.