Le Festival du Merveilleux: a magical moment
---
From December 26th 2014 to January 4th 2015, the Musée des Arts Forains pulls out all the stops by hosting the Festival du Merveilleux ("Festival of Wonders"). It is the opportunity for the most curious of you to discover all the disciplines of the performing arts, in a unique and magical place: the former wine storehouses of Bercy. The Pavillons de Bercy are dressed to the nines for the occasion, offering to the public a poetic garden, a Theatre of Wonders, Venetian Saloons, and for the very first time, the Magic Mirror. This authentic travelling ballroom from the 1920s is famous for its astounding optical illusions and the unique light effects it offers. Among the attractions and others curiosities from the performing arts world presented, magicians, trapeze artists, tightrope walkers, balancing act performers and storytellers will stir up dreams for young and old with stories, each more enchanting than the last.
Le Festival du Merveilleux, from December 26th 2014 to January 4th 2015.
Open from 10am to 6pm.
Full rate: €12 / Concession (students): €10 / Under 12s: €5
An attraction ticket is offered with every entrance.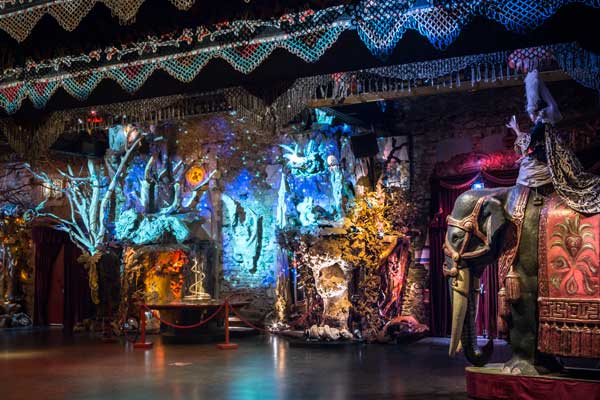 Theatre of Wonders © Sébastien Siraudeau
Musée des Arts Forains (in French)
53, avenue des Terroirs de France
75012 Paris
France
Tel: +33 (0)1 43 40 16 22
infos@pavillons-de-bercy.com
Metro: Cour Saint-Emilion (line 14).