H&M and Zara give up on viscose
---
The Canadian NGO Canopy has launched a "Fashion Loved by Forest" program, aiming at banning viscose, also known as artificial silk, from fashion industry. About thirty brands have signed the treaty, among which the heavyweight Swedish brand H&M and the Spanish Inditex (Zara), as well as Quicksilver. These brands have committed themselves to stop using artificial textiles to create their collections. Those substitute fibers are victims of their own success, which skyrocketed in 2010. Viscose is made out of tender wood pulp, coming from old and threatened forests, such as Indonesian tropical forests and Far North boreal forests. More precisely, the cellulose contained in the plants (wood) is chemically transformed to become viscose. According to Canopy, around 70 million trees were cut down to be used for textile production in 2013. And this figure could double within the next 20 years. The commitment of major brands is a new step in the fight against our planet's deforestation, and for the protection of the environment in general.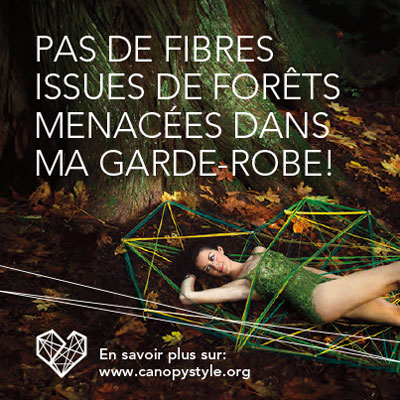 Photo credits: French Facebook page of Canopy
Learn more about the Canadian environmental NGO Canopy.
English Facebook page of Canopy.
Learn more about the Fashion Loved by Forest program.