Exhibition: Yona Friedman
---
The Cité de l'Architecture et du Patrimoine of the City of Paris is unveiling the universe of architect Yona Friedman, on the occasion of an eponymous exhibition. Born in 1923 in Budapest, he studied architecture in Hungary then in Israel where he started his career, before getting to France where he settled in Paris in 1957. His works all oscillate between past, present and future and are nourished of universal myths. Until next November 7th, just nearby the Green Hotels Paris, the Eiffel Trocadéro and the Gavarni, drawings, slide shows and several models are displayed. All these works speak with a certain realism about the stalemates which affect the modern man, like poverty, global warming or debt.
Exhibition "Yona Friedman - Architecture mobile = Architecture vivante", from May 11th to November 7th, 2016.
Open every day, except on Tuesday, from 11am to 7pm.
Nocturnal on Thursday until 9pm.
Full rate: €12. / Reduced rate: €8.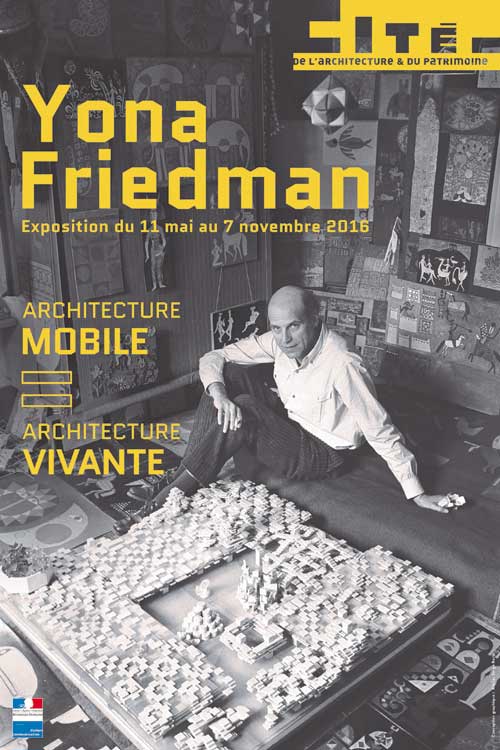 Poster of the exhibition Yona Friedman Architecture mobile = Architecture vivante
at the Cité de l'architecture & du patrimoine.
© CAPA, 2016
© Graphic design: Serge Barto
Cité de l'architecture & du patrimoine
1, place du Trocadéro
75116 Paris
France
Tel.: +33 (0)1 58 51 52 00
Metro: Trocadéro (lines 6 and 9).