Exhibition: Travel in the Middle Ages
---
The Musée de Cluny is hosting an exhibition, entitled "Voyager au Moyen Age" ("Travel in the Middle Ages"), which aspires to depict how men and women used to travel in the Middle Ages. Through a selection of objects, you will discover how merchants, but also artists and pilgrims used to travel. This retrospective invites you to some symbolic travels, such as the journey of the new bride, or the epics of new lands conquest times.
"Voyager au Moyen Age" exhibition, from October 22th 2014 to February 23th 2015.
Open every day, except on Tuesday, from 9.15am to 5.45pm.
Full rate: €9 / Concession: €7 / Free entrance for under 18s.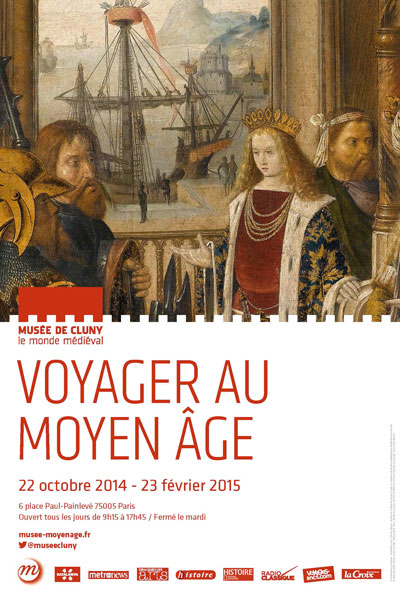 Voyager au Moyen Age, poster: Le roi païen fait demander en mariage sainte Ursule, ("Pagan king requests Saint Ursule's hand")
Paris, Musée du Louvre, RF 969, (CI. 850b) - © RMN-Grand Palais / Jean-Gilles Berizzi Conception graphique : Studiolwa.com
Musée de Cluny - Musée du Moyen Age
6, place Paul Painlevé
75005 Paris
France
Tel: +33 (0)1 53 73 78 00
contact.musee-moyenage@culture.gouv.fr
Metro: Cluny – La Sorbonne (line 10).