Exhibition: The Novel of a Wardrobe, Parisian Chic from the Belle Epoque to the 1930s
---
The Musée Carnavalet, specialized in Parisian history, holds a new exhibition on the wardrobe of a Belle Epoque Parisian figure: Alice Alleaume. Working as a head saleswoman for one of the greatest haute couture Parisian houses, Chéruit, she came from a fashion-related family. Indeed, her mother was a dressmaker and her older sister Hortense was also a head saleswoman for Worth, another prestigious haute couture house, located rue de la Paix at that time. The wardrobe presents Lanvin, Chéruit and Worth pieces, as well as Rose Descat headbands, but it also relates the story of a family, of a Parisian woman and of a fashion house. You will also see lithographs and paintings of two real luxury temples, rue de la Paix and place Vendôme, before the World War I. This exhibition is perfect for beautiful fabrics connoisseurs and for Belle Epoque lovers.
Exhibition: "The Novel of a Wardrobe, Parisian Chic from the Belle Epoque to the 1930s″, from October 17th, 2013 to March 16th, 2014.
Open Tuesday – Sunday from 10 am to 6pm.
Closed on Monday and public holidays.
Full rate: €8 / Concession: €6 / Youth rate: €4 / Free for under-13s.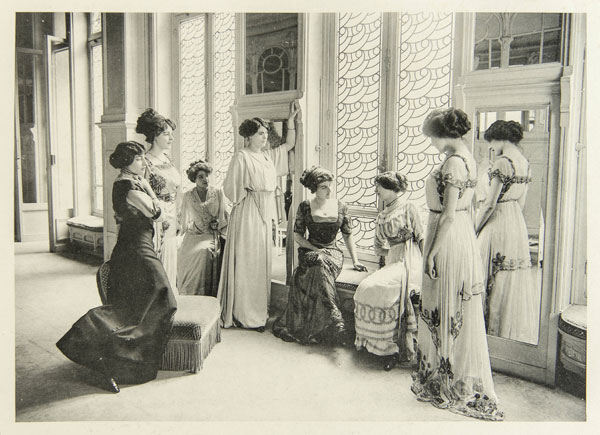 G. Agié, Les mannequins, 1910.
Photograph from the book "Les Créateurs de mode" (édition du Figaro, Paris).
© Édition du Figaro/All rights reserved
Photo © G. Agié/ All rights reserved
Picture © Gérard Leyris
Musée Carnavalet – Histoire de Paris
23, rue de Sévigné
75003 Paris
France
Tel: +33 (0)1 44 59 58 58
Metro: Chemin Vert (line 8).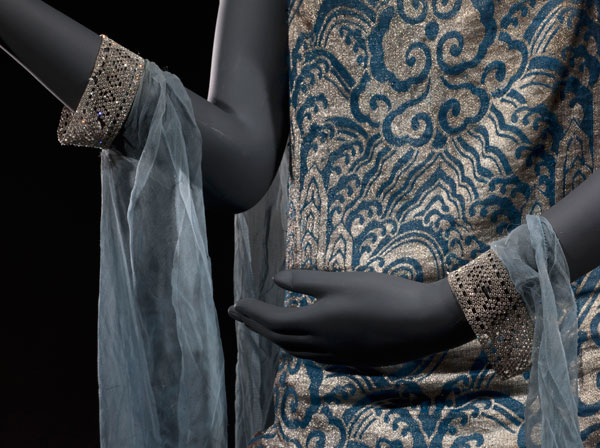 Evening dress (unbranded), 1920-1925.
Silver and blue laminated, parts of blue silk muslin, embroidered paste on blue silk tulle.
© Stéphane Piera/Galliera/
Roger-Viollet