Exhibition: Rhodes, A Greek Island and Gateway to the East
---
The island of Rhodes abounds with archaeological treasures, and has been a trading hub between the Aegan and the East since ancient times. Four great European museums – the Louvre, the museums of Rhodes and Copenhagen and the British Museum – have created together this exhibition about Rhodian art, entitled "Rhodes, une île grecque aux portes de l'Orient" ("Rhodes, A Greek Island and Gateway to the East"). This is the opportunity for visitors to discover archaeological wonders dating from between the 14th and 6th centuries BC (from the Bronze Age to the Archaic period), such as the Rhodian faience.
"Rhodes, une île grecque aux portes de l'Orient" exhibition, from November 14th 2014 to February 9th 2015.
Open every day from 9am to 6pm, except on Tuesday.
Late opening on Wednesday and Friday till 9.45pm.
Full rate: €12 (included with museum ticket).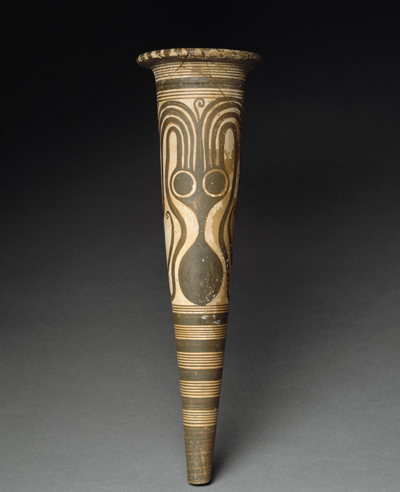 Clay rhyton, 37,5 x 11 Paris, Louvre museum, Department of Greek, Etruscan and Roman Antiquities
© RMN-Grand Palais (musée du Louvre) / Hervé Lewandowski
Musée du Louvre
Pyramide du Louvre
Cour Napoléon
75001 Paris
France
Tel: +33 (0)1 40 20 50 50
Metro: Palais Royal – Musée du Louvre (lines 1 and 7).