Exhibition: A Thousand Billion Ants
---
The Palais de la Découverte, a French science museum, proposes an immersion in the ants world. You will observe living ant farms and discover different species of ants. This exhibition aims at explaining the role of this tiny animal in the ecosystems, through films, simulation games and even a giant mock-up. A show to enjoy with your family.
Exhibition: "A Thousand Billion Ants", from October 15th 2013 to August 24th 2014.
Open Tuesday - Saturday from 9:30am to 6pm, and on Sunday and public holidays from 10am to 7pm.
Full rate: €8 / Concession: €6 / Free for the under-6s.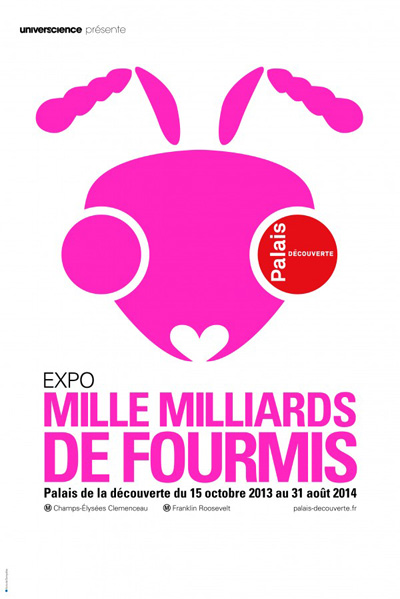 Poster of the exhibition Pink Ants
© Broca & wernicke
Palais de la Découverte
Avenue Franklin Delano Roosevelt
75008 Paris
France
Tel: +33 (0)1 56 43 20 20
Metro: Champs-Elysées Clemenceau (lines 1 and 13).