Exhibition: Mélanie Matranga, Fanfu
---
Since last October 21st, Palais de Tokyo (just nearby the Green Hotels Paris) hosts the first personal exhibition of the French artist Mélanie Matranga. The title of the exhibition in Mandarin pronounced [fanfu], means "encore et encore" ("again and again"), responding to the movie of the same name, produced by the young woman. For this retrospective, Mélanie Matranga takes advantage of our representations, in constituting several distinct environments. She likes to point out: "I use more emotional than formal structures, the emotions generated by the listening of the music, the embarrassment caused by the view of an erotic scene in a public area without having expectation…go through roundabout paths like these structures to express something without really succeed." In this way, the visitor is invited to stroll about in the Palais de Tokyo, in several rooms representing a silicone smoking room, and mezzanines. These places entirely created lay the intimate bare, and invite the spectators to be alone with the others. This inescapable contemporary art exhibition is to be discovered until January 2016.
"Mélanie Matranga反复 [fanfu]" Exhibition, from October 21st 2015 to January 10th 2016.
Open daily, except on Tuesday, from 12am to 12pm.
Full rate: €10 / Concession (under 26): €8 / Free for underage.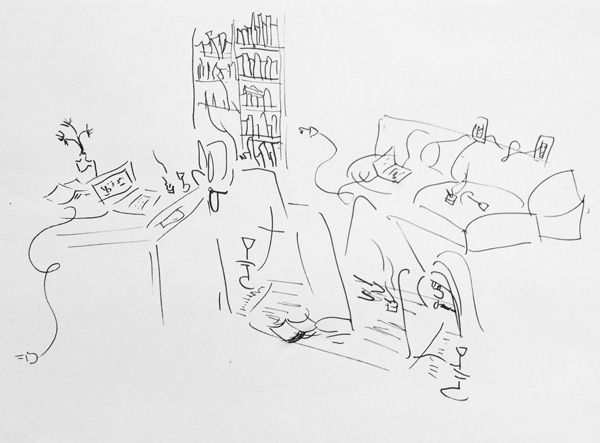 Mélanie Matranga, E-flux drawing, 2014
Fichier numérique, dimensions variables / web file, dimensions variable.
Courtesy de l'artiste / Courtesy of the artist.
Palais de Tokyo
13, avenue du Président Wilson
75116 Paris
France
Tel: +33 (0)1 81 97 35 88
Metro: Iéna or Alma-Marceau (line 9).