Exhibition: La danse des formes
---
This exhibition entitled "The dance of forms" begins tomorrow and marks the entry of 72 new works into the collection of the musée Guimet. They were donated to the museum by their creator, Samiro Yunoki, an artist specialised in the Japanese technique of the Katazome (literally "dyeing from a form"). A perfect occasion to discover this artistic tradition and the artist's textile masterpieces, through which he makes forms dance, either in a colourful swirl or in a cold and fascinating abyss.
"La danse des formes" exhibition, from October 8th 2014 to January 12th 2015.
Open every day, except on Tuesday, from 10am to 6pm.
Full rate: €9,50 / Reduced rate: €7.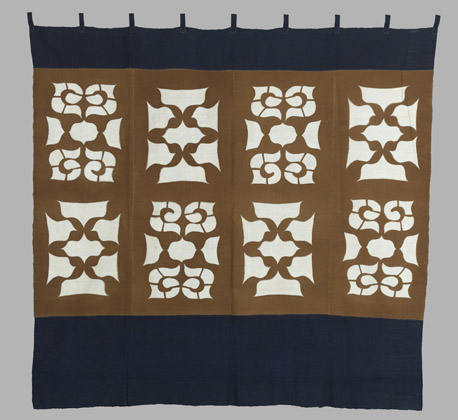 Géométrie, Samiro Yunoki, 1950, cotton, 137x144 cm, donated by the artist.
© RMN-GP (MNAAG, Paris)/Thierry Ollivier
Musée national des Arts asiatiques – Musée Guimet
6, place d'Iéna
75016 Paris
France
Tel: +33 (0)1 56 52 53 00
Metro: Iéna (line 9) or Pont de l'Alma (RER C).