Exhibition: Jade, from emperors to Art deco
---
For its new exhibition, the musée Guimet is looking at the symbolic, aesthetic, scientific and historical aspects of jade, that material which is inseparable from Chinese civilization. Jade has fascinated everyone, from Chinese emperors to the greatest jewellers, such as Cartier, reaching its peak in 20th century when it Art Deco made it sublime. About 330 pieces are exhibited for the first time in France, mainly lent by the National Palace Museum in Taipei, but also by the Château de Fontainebleau, and museums such as Les Arts décoratifs, the Louvre, or the Jacquemart-André, to name but a few. This is a unique opportunity to learn more about the beauty and virtues attributed to this stone that Confucius called an "image of goodness". Only a few minutes walk from Green Hotels Paris, the Eiffel Trocadéro and the Gavarni.
Exbition "Jade, from emperors to Art deco", from 19th October 2016 to 16th January 2017.
Open every day, except on Tuesday, from 10a.m. to 6p.m.
Closed on the 25th December 2016 and on the 1st January 2017.
Full price: €9,50 / Concessions: €7.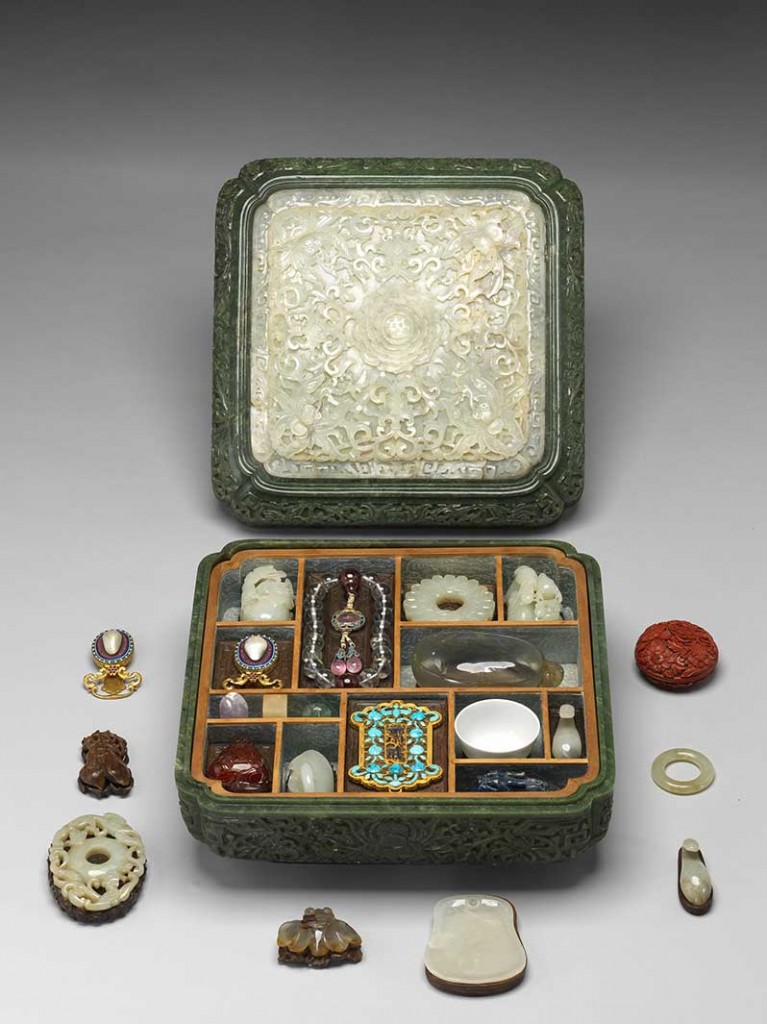 Cabinet de curiosités miniature
Chine
Dynastie Qing, marque et règne de Qianlong (1736-1795)
Oie (jade blanc), pierre à encre (jade blanc), double gourde (jade blanc), daims (jade blanc),
disque bi à décor de dragons chi (jade céladon), deux agrafes (jade céladon),
anneau huan (jade céladon), ornement-chrysanthème (jade céladon), bracelet (cristal de roche),
trois sceaux non gravés (quartz vert, agathe, améthyste), cigale (agate verte), coupe à anse (agathe),
dragon (lapis-lazuli), divinité de longévité shouxing (ambre), coupe avec marque Yongzheng (porcelaine),
deux boucles de ceinture (perle, or), plaque d'abstinence (turquoise, or) et cosses de haricots (bambou)
Musée national du Palais, Taipei, Guyu 6276 (boîte) © Musée national du Palais, Taipei
Musée national des Arts asiatiques – Musée Guimet
6, place d'Iéna
75016 Paris
France
Tel.: +33 (0)1 56 52 53 00
Metro: Iéna (line 9) or Pont de l'Alma (RER C).