Exhibition: L'Art et l'enfant
---
The musée Marmottan takes an interest in the child representation in French painting and in its evolution from the XIVth to the XXth century. With this aim in mind, about 100 paintings are presented, signed by the greatest French painters modelled on Renoir, Cézanne, Manet, Bonnard, Monet, Champaigne, Chardin, Corot, Millet, Greuze, Vallotton, Maurice Denis, Matisse, Dubuffet, Chaissac, Pelez or even Picasso. These are thus street or official portraits, intimate or idealised scenes, as well as landscape paintings which are exhibited. Some of them are from outsider art, others are from impressionism. Great paintings are shown for the occasion, as La Leçon by Renoir, Le peintre et l'enfant by Picasso, Le ballon by Vallotton, La leçon de tricot by Millet or even Le Clairon by Eva Gonzalès. This event can be admired two underground stations from the Green Hotels Paris, the Eiffel Trocadéro and the Gavarni.
"L'Art et l'enfant : Chefs-d'oeuvre de la peinture française" exhibition, from March 3rd to July 3rd 2016.
Open Tuesday-Sunday from 10am to 6pm.
Nocturnal on Thursday until 9pm.
Full rate: €11 / Concession (underage and students less than 25 years): €6.5 / Free for those under 7.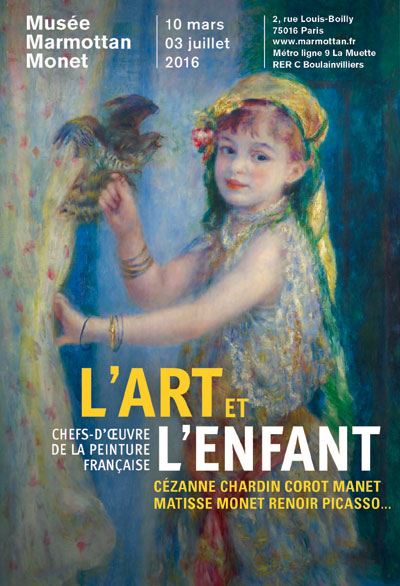 L'Art et l'enfant : Chefs-d'œuvre de la peinture française - ©SDP
Musée Marmottan Monet
2, rue Louis Boilly
75016 Paris
France
Tel: +33 (0)1 44 96 50 33
Metro: La Muette (line 9) or Boulainvilliers (RER C).