Exhibition: Japon, images d'acteurs, estampes du kabuki au 18e siècle
---
To further extend the universe presented in the "From Nô to Mata Hari, 2000 years of Asian theatre" exhibition, the Guimet museum features "Japon, images d'acteurs, estampes du kabuki au 18e siècle" (Japan, pictures of actors, 18th century kabuki engravings), a second retrospective focusing on different side of Japanese theater: the kabuki. In contrast to Nô, this theatrical genre is intended for a wide public, exclusively male. Several characteristics allow one to recognize its actors: their codified gestures, their singing, their makeup emphasizing their features and various feelings expressions. Yet, their costumes with "transformist" effects, spectacular and unexpected, truly expose this art form above all else. The Guimet museum, located two steps away from the two Green Hotels Paris, the Eiffel Trocadéro and the Gavarni, thus follows through with its thematic related to the history of Japanese theater.
"Japon, images d'acteurs, estampes du kabuki au 18e siècle" exhibition, from April 15th to July 6th 2015.
Open every day except Tuesday, from 10am to 6pm.
Full rate: €9,50 / Concession (18-25 yeas old): €7 / Free for visitors under 18.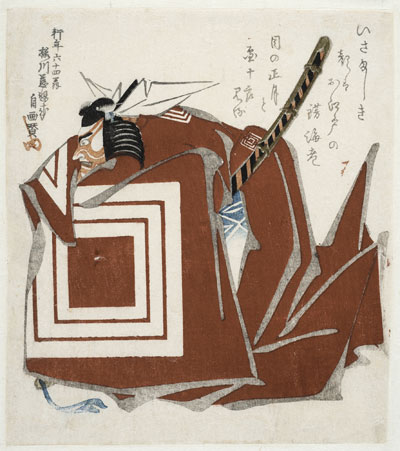 Utagawa Kunisada (1786-1865)
Ichikawa Danjûrô VII in a Shibaraku performance
With a kyôka poem from the Edo era, 1820
Shikishiban format, polychrome impression for a private edition, surimono
Nobert Lagane donation, 2001 MA 12214 © DR - MNAAG
Musée national des Arts asiatiques - Guimet museum
6, place d'Iéna
75016 Paris
France
Tel: +33 (0)1 56 52 53 00
Metro: Iéna (line 9) and Pont de l'Alma (RER C).