Exhibition: Hokusai
---
The Grand Palais is exhibiting 500 works from the most famous Japanese artist of the world: Katsushika Hokusai (1760-1849). All at once a painter, an engraver and a graphic artist, Hokusai is famous for his landscape prints that bear testimony of the soul of Japan, of the country's spiritualism, and of the traditional principles of Japanese art too. This gigantic re-examination was divided into two sections, so that the visitor can fully understand the colossal dimension of the artist's work. This exhibition is definitely unique since a major part of the works presented in Paris will not leave Japan again after that, from 2016 onwards, at the opening of the Hokusai Museum in Tokyo.
"Hokusai" exhibition, from October 1st 2014 to January 18th 2015.
Open on Monday from 10am to 8pm, on Wednesday, Thursday and Friday from 10am to 10pm, on Saturday from 9am to 10pm, and on Sunday from 9am to 8pm.
Closed on Tuesdays.
Open from 9am to 10pm during the All Saints holidays (October 18th – November 1st) and the Christmas holidays (December 20th – January 3rd)
Late Opening: October 4th (free entrance for the current exhibits from 8pm to midnight).
Closed on Thursday, December 25th 2014.
Full rate: €13 / Concession: €9.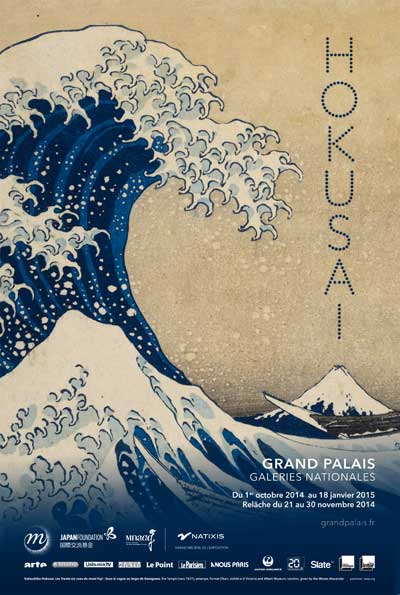 Katsushika Hokusai, Thirty-six views of Mount Fuji: The Great Wave off Nanagawa, Tempō era (circa 1831),
Print, Ōban format, nishiki-e © Victoria and Albert Museum, London, given by the Misses Alexander
Hokusai, Grand Palais exhibition - © Poster Rmn-Grand Palais, Paris 2014
Grand Palais
3, Avenue du Général Eisenhower
75008 Paris
France
Tel: +33 (0)1 44 13 17 17
Metro: Champs-Elysées Clemenceau (lines 1 and 13).