The Cow Parade moves to the Mini Palais
---
The Cow Parade, famous for its cows decorated with renowned artists' drawings and patterns, moves to Paris and sets up at the Mini Palais until December 15th 2015. Since more than 15 years, this exhibition is organised across the world, and appeals for its offbeat side. After the Jardin d'Acclimatation located next to the Green Hotels Paris, and before reaching Deauville and Cannes, La Cow Parade Transhumance takes up residence at the majestic terrace of the Mini Palais, down the Champs-Elysées. For its 2015 edition, more than thirty artists took part in the project, including Mathilde de l'Ecotais who signs the "Cowluche", a cow dressed with blue and white striped overalls and a yellow T-shirt, in tribute to the famous outfit of Coluche. To close the event, an auction of the displayed works will be organised in favour of the Restos du Coeur, December 15th next.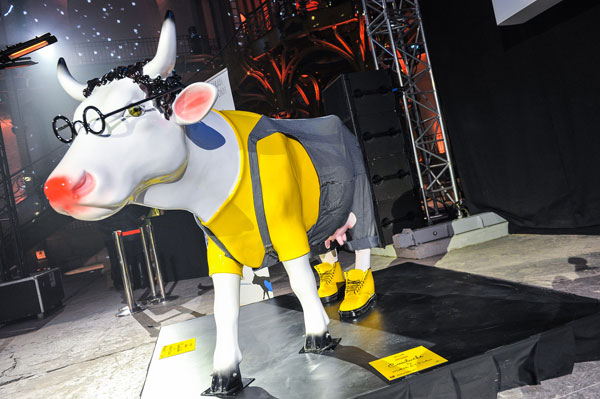 The Cowluche © Cow Parade
A milky cocktail bar
For the occasion, the Mini Palais, well-known for its cocktail bar, transforms it in a "milky" version, with an ephemeral menu of "Cowcktails". With or without alcohol, they fulfil all desires, as the "Tropicow" made from Coro Coro rum, vanilla liquor, milk cane and cane sugar. Softer, the "Meuh Meuh fraise", a strawberry milk with Tagada strawberries, will make you fall back into childhood. Finally, to face up to the wintry weather of winter, the "Vach'a Lait", a milk brewed with Lapsang suchong tea and tea sirup and cinnamon will warm the most sensitive to the cold up.
La Cow Parade Transhumance (in French), from November 20th to December 15th 2015.
Free access Monday-Sunday, from 10am to 7pm.
From €6 for an alcohol-free Cowcktail, and from €13 for a Cowcktail with alcohol.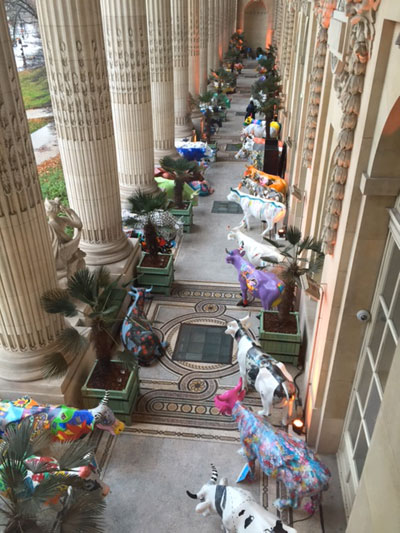 © Cow Parade
Mini Palais
3, avenue Winston Churchill
75008 Paris
France
Tel: + 33 (0) 1 42 56 42 42
Metro: Champs Élysées Clemenceau (lines 1 and 8) or Invalides (lines 8 and 13).