Exhibition: Chandigarh, 50 ans après le Corbusier
---
The Cité de l'architecture takes an interest in the city of Chandigarh, new capital of the Penjab, thought by Le Corbusier (1887-1965) after India's proclamation of independence. Fifty years after the architect's death, the museum presents the everyday life of this city, but especially how Indians have lived the Corbusean modernity, in assimilating it or on the contrary, in turning away from it. Le Corbusier worked on this project of 1951 until his death in 1965. He designed a horizontal town with independent zones for work, leisure, traffic and housing hidden in the vegetation. On the occasion of this exhibition, visitors can discover original videos, models, drawings, objects and documents which constitute a cabinet of curiosities.
"Chandigarh: 50 ans après Le Corbusier" ("Chandigarh: 50 years after Le Corbusier") exhibition, from November 11th 2015 to February 29th 2016.
Open on Monday, Wednesday, Friday, Saturday and Sunday from 11am to 7pm.
Nocturnal on Thursday until 9pm.
Full rate: €5 / Concession: €3.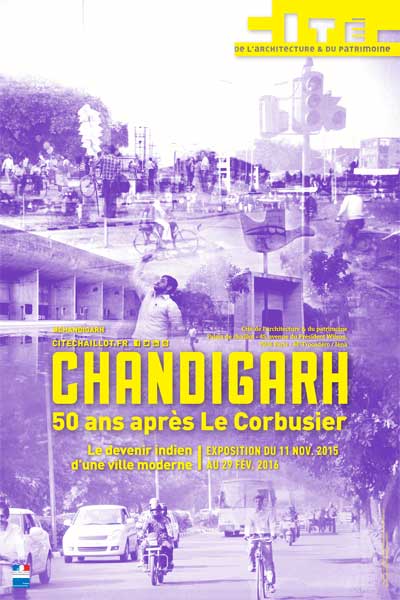 © Graphic design: Keva Epale, 2015, from the works of Christian Barani / Rémi Papillault /
Chandigarh College of Architecture
Cité de l'architecture et du patrimoine
1, place du Trocadéro
75116 Paris
France
Tel: +33 (0)1 58 51 52 00
Metro: Trocadéro (lines 6 and 9).