Exhibition: Art bonpo de l'ancien Tibet
---
After "Intérieur coréen", the Guimet Museum features a unique and still unknown art of ancient Tibet: the bonpo. This artistic movement comes from the Bon, most ancient spiritual tradition of Tibet, pre-existent to Buddhism, today considered as form of shamanism. The Bon was notably recognized in 1987 by the 14th Dalai Lama and appointed fifth religious Tibetan star. With this previously unseen retrospective (the first exhibition dedicated to bonpo art only dates back from 2007), the museum features banners narrating the life of Tonpa Shenrab, founder of Bon. Captain Henri d'Ollone (1868-1945) brought these artworks from a mission carried out in eastern Tibet from 1907 to 1908. Rare bonpo sculptures, photographies and documents helping us discover a mysterious area of the world are also presented.
"Art bonpo de l'ancien Tibet" exhibition, from July 8th to October 12th 2015.
Open every day excpet Tuesday, from 10am to 6pm.
Full rate: €9,50 / Concession (18-25 years old): €7 / Free for visitors under 18.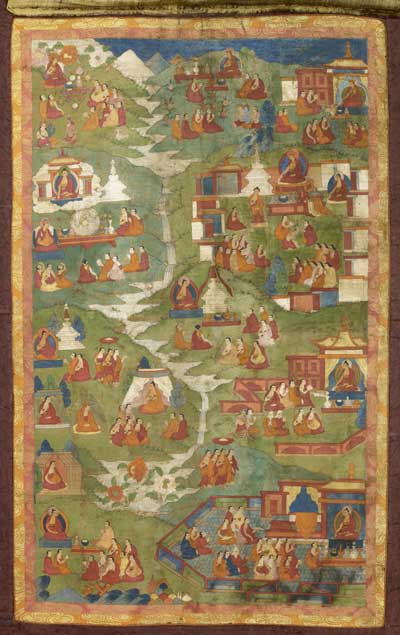 Ten paintings illustrating the life of Tonpa Shenrab,
Eastern Tibet, 19th century
Distemper on canvas
Donation from Mrs. D'Ollone, in memory of General Henri d'Ollone, 1947.
MA121 © DR – MNAAG
Musée national des Arts asiatiques - Musée Guimet
6, place d'Iéna
75016 Paris
France
Tel: +33 (0)1 56 52 53 00
Metro: Iéna (line 9) or Pont de l'Alma (RER C).