Exhibition: Alexandra David-Néel, an adventuress at the museum
---
Until May 22nd 2017, the Guimet museum pays tribute to one of the most famous explorer: Alexandra David-Néel. Since 1911, she traveled through Tibet and contributed, thanks to her expeditions and to the numerous works it generated, to the discovery of this country by the Occident, and particularly of Tibetan Buddhism. The exhibition features manuscripts, notebooks and also photographs of the adventuress lent by home of Alexandra David-Néel of Digne-les-Bains. These pictures were taken during her stays in Tibet. Comic trips from Fred Campoy and Mathieu Blanchot are also presented, evoking the incredible story of this exceptional woman. For the anecdote, Alexandra David-Néel was very attached to the Guimet museum which inspired her vocation. At the end of her life, she incidentally donated many paintings (thangka), ritual dance masks, as well as her entire Tibetan library to the parisian museum. This fascinating event is available only a five minute walk away from the Green Hotels Paris, the Eiffel Trocadéro and the Gavarni.
Exhibiton "Alexandra David-Néel: an adventuress at the museum", from February 2nd 2017 to May 22nd 2017.
Open every day, except on Tuesdays, from 10a.m. to 6p.m.
Closed on May 1st 2017.
Full rate: €9,50 / Concessions: €7.
The access to permanent collections and to temporary exhibitions is free on the 1st Sunday of every month.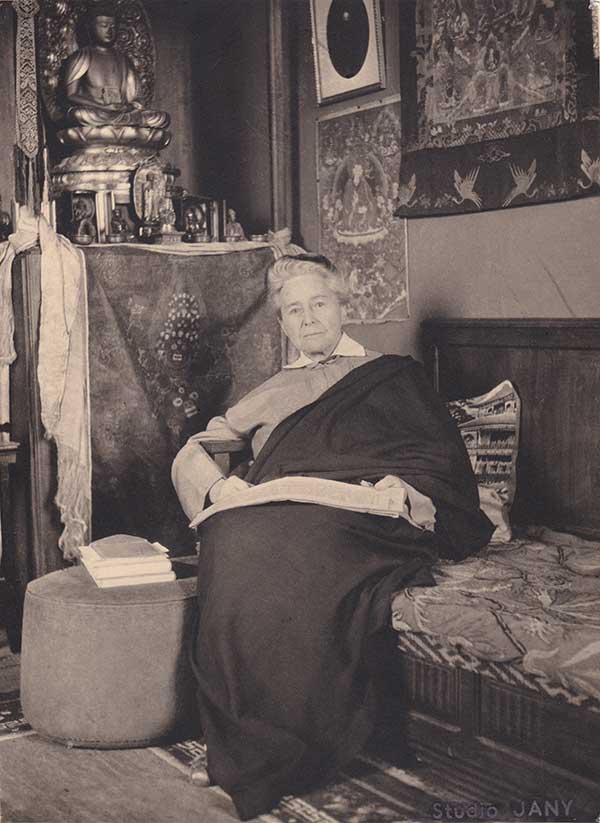 Alexandra David-Néel around 85 years old, in the Tibetan oratory in her house at Digne.
House A. David-Néel, Digne-les- Bains, PHDN 198.
Photo credit: Maison Alexandra David-Neel © Ville de Digne-les-Bains
National museum of Asian arts – Guimet Museum
6, place d'Iéna
75016 Paris
France
Tel: +33 (0)1 56 52 53 00
Metro: Iéna (line 9) or Pont de l'Alma (RER C).