Exhibition: Abraham Poincheval
---
Until next May 8th, the Palais de Tokyo welcomes one of the maddest contemporary artists of his generation: Abraham Poincheval. Through solitary performances, settled in an oversized bottle which ascended the Rhône for instance, he pushes back his mental and physical limits. Through his constantly spectacular works, he studies notions of confinement, life in autarky and immobility. For this personal exhibition, he executes two performances entitled "Pierre" and "Œuf". For "Œuf", he's settled in a vivarium and attempts to incubate hen eggs until their hatch, while seating or lying down. This performance started on March 29th, 2017 and should last from 21 to 26 days (a duration that corresponds to the gestation of the animal). It is in fact the first time that the artist confronts the living world. This event is available at a within walking distance of the Green Hotels Paris, the Eiffel Trocadéro and the Gavarni.
Exhibition "Abraham Poincheval", from February 3rd to May 8th, 2017.
Open every day, except on Tuesday, from noon to midnight.
Full rate: €12.50 / Concessions (18-25): €9.40.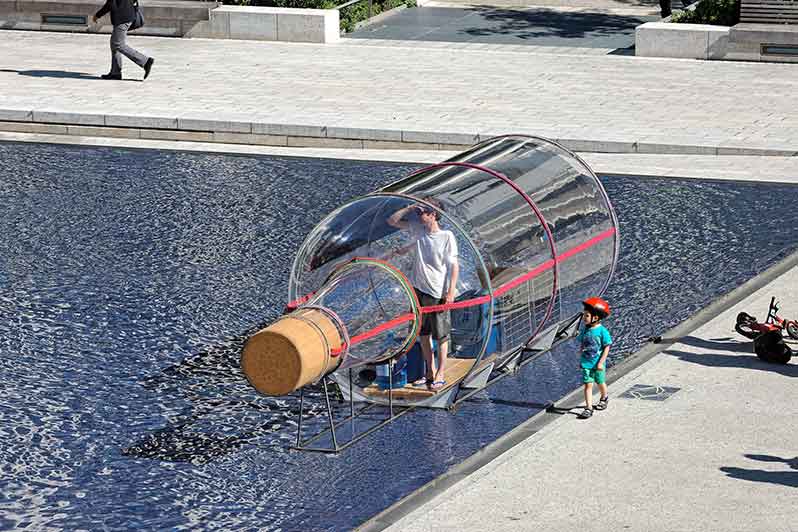 Abraham Poincheval, view of the Bouteille performance, 2016. IAC de Villeurbanne
Courtesy Semiose galery (Paris). Photo: Blaise Adilon
Palais de Tokyo
13, avenue du Président Wilson
75116 Paris
France
Tel: + 33 (0)1 81 97 35 88
Metro: Iéna or Alma-Marceau (line 9).