Exhibition: 113 Ors d'Asie
---
From June 21st till September 18th, 2017, the musée Guimet presents the exhibition "113 Ors d'Asie". For the occasion, the MNAAG took out some of its collections and is introducing other more recent ones, in order to offer to the public 113 masterpieces to admire. Very present in the Buddhist and the tantric cultures, as well as in the Hinduism and the Jainism, this noble metal played a major role in many Asian countries. For this retrospective, the musée Guimet selected for lovers of rare objects Indian maharajah adornments, golden coins of the kouchane Afghanistan and Japanese sculptures in golden powder, to name a few pieces presented on the spot. These 113 Asian marvels retrace the history of gold through time, by revisiting its use in particular, its extraction techniques and its methods of transformation. This exhibition is available near the Green Hotels Paris, the Eiffel Trocadéro and the Gavarni.
Exhibition "113 Ors d'Asie", from June 21st to September 18th, 2017.
Open every day, from 10a.m. to 6p.m.
Closed on Tuesday.
Full rate: €9.50 / Concessions: €7/ Free for those under 18.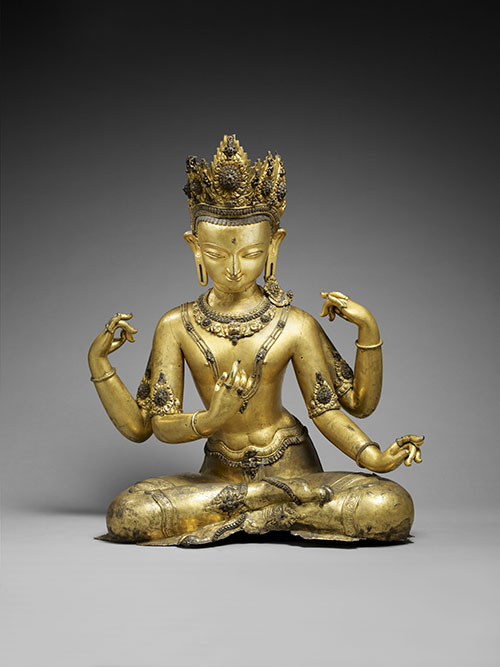 Vishnu
Népal, 16th century
Gilded copper with polychromy traces
1. 78 cm ; W. 63 cm ; depth. 34 cm
Dation, 2012
MA12493
Photo (C) RMN-Grand Palais (musée Guimet, Paris) / Thierry Ollivier
Musée national des Arts asiatiques – Musée Guimet
6, place d'Iéna
75016 Paris
France
Tel: +33 (0)1 56 52 53 00
Metro: Iéna (line 9) or Pont de l'Alma (RER C).