Du vert près de chez moi: the revegetation of Paris is under way!
---
As part of the call for proposals "Du vert près de chez moi" – literally "a bit of greenery near my home"– which took place from July 15 to September 25, 2014, Parisians have been encouraged by the Mairie de Paris to report all areas prone to shelter some greenery within the capital. They have thus taken an inventory of over 1,500 spots (barren facades, oversized sidewalks, empty nooks, etc.) likely to be transformed into window boxes, vegetated walls or to shelter bushes or flowers. This operation was carried out through the DansMaRue mobile app. Out of the 1,500 proposals, 209 vegetated spots have been selected via, for each arrondissement, selection criteria based on the technical feasibility, the surface area, the number of inhabitants or the presence of green areas. The record participation shows how high the longing of the inhabitants when it comes to the revegetation of Paris is, since the Parisian executive has received no less than 280 proposals after the launch of the project. The list of the 209 new vegetated spots which will come to life in 2015 has been revealed in February and Parisians should soon profit from, among other things, vegetated walls rue de Javel (15th arrondissement), window boxes on the ground rue Abel Ferry or the revegetation of tree trunks Avenue de Versailles (16th arrondissement).
Discover all the selected proposals (in French).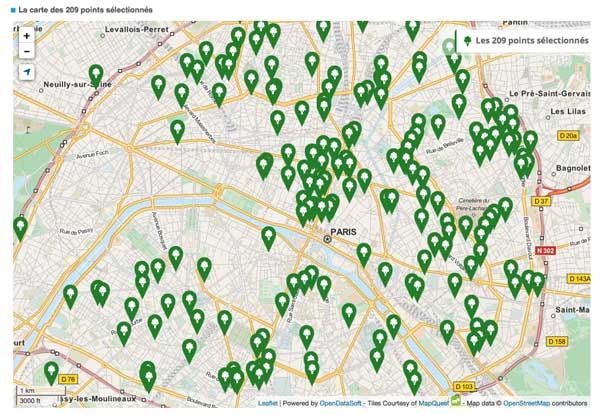 Screenshot of the map presenting the 209 selected spots © Paris.fr