Atelier Vivanda: for all meat lovers
---
We previously presented the wine bar and cheese cellar Brut, managed by Chef Benallal Akrame located rue Lauriston, near the Green Hotels Paris. The chef owns a third restaurant in the very same street, across his gourmet restaurant: the Atelier Vivanda. This steakhouse is the place to go for all meat lovers! Chef Akrame has paid extra care to his restaurant's decoration, and, like he did for Brut, he used his French expertise to select the round tables made using hard wood from the French region of Sologne and handmade knives from Camargue. We also appreciate the fact that waiters bring the dishes wearing a leather apron, which reminds that of butchers', only more chic. On the menu, you will find quality meat: XL Black Angus rib steak, prime rib of Holstein beef for two, sweetbread etc. Each dish is served with either: potato mash, pommes dauphines, or gratin dauphinois. The Atelier Vivanda offers an unbeatable set menu for 35 euros, consisting of a starter, meat with a side dish, and a dessert. Incidentally, starters and desserts are especially mouth-watering: soft-boiled egg and spinach or duck leg terrine, to end with a pâtissier custard and its jasmine-flavored ice-cream. Chef Benallal Akrame will undoubtedly succeed to please your taste buds.
Open from 12pm to 2:30pm, and from 7:30pm to 10pm.
Closed on the weekend.
Set menu for €35: starter + meat and side dish + dessert.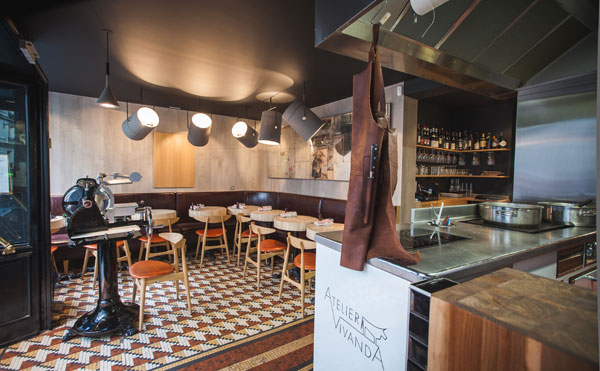 © Thaï Toutain
Atelier Vivanda (in French)
18, rue Lauriston
75116 Paris
Tel: +33 (0)1 40 67 10 00
Metro: Kléber (line 6).