Exhibition: Une architecture de l'engagement, l'AUA (1960-1985)
---
The Cité de l'Architecture located nearby the Green Hotels Paris takes interest in the Atelier d'urbanisme et d'architecture, the AUA (the Atelier in the Architecture and Urbanism Workshop), in its new exhibition. Renowned for its multidisciplinary approach, this workshop was the first to gather architects, urbanists, decorators, engineers, but also sociologists. All this talents met around a project among which: Jean Tribel, Jacques Allégret, Michel Corajoud and Borja Huidobro. "Une achitecture de l'engagement" ("An architecture of commitment") exhibition shows each member of AUA and dwells on their paths, from 1960 to 1985, and after. Divided in four cycles, this important retrospective takes us to the Cité Champagne in Paris until the great urbanism projects, from Grenoble to Evry. For this occasion, the public will discover mock-ups, photographs, films, drawings and publication works.
"Une architecture de l'engagement: l'AUA (1960-1985)" exhibition, from October 20th 2015 to February 29th 2016.
Open on Monday, Wednesday, Saturday and Sunday from 11am to 7pm.
Nocturnal on Tuesday, December 25th 2015 and January 1st 2016.
Full rate: €8 / free for underage.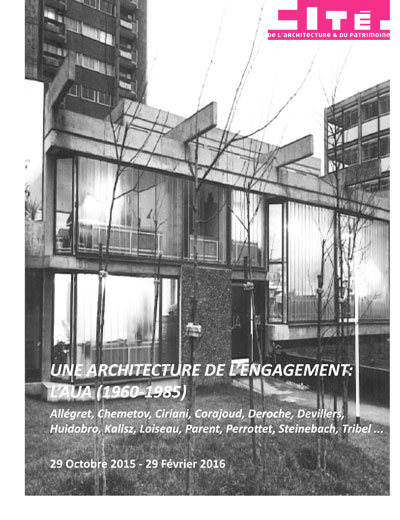 Une architecture de l'engagement: the AUA (1960-1985) - ©SDP
Cité de l'architecture et du patrimoine
1, place du Trocadéro
75116 Paris
France
Tel: +33 (0)1 58 51 52 00
Metro: Trocadéro (lines 6 and 9).