Exhibition: Destin Dolganes
---
For its new exhibition, the musée de l'Homme presents a photo exhibition by Nicolas Mingasson, in association with the Observatoire Photographique des Pôles. Through 70 exposed shots, visitors are invited to discover unknown people, those of the Dolganes of the North Taïmyr, one of the most isolated of the Russian Antarctic. Theses reindeer farms are settled since a long time, but some of them continue to move around, by following the transhumance of their herds. Thanks to the silver halide photographs of the photographer, we discover the everyday life of these populations and the differences which can exist between the generations. The youths use Skype and dream about modernity, far away from their native land. The retrospective "Destins Dolganes" ("Destiny of the Dolganes") also highlights a series of photographs from old photo albums of many dolganes families. This is the occasion to understand the really particular life of this unknown people and especially isolated of the Russia's north, nearby from the Green Hotels Paris, the Eiffel Trocadéro and the Gavarni, located 5 minutes on foot from the famous museum.
"Destins Dolganes" ("Destiny of the Dolganes") exhibition, from January 20th to March 7th 2016.
Open daily except on Tuesday, from 10am to 6pm.
Full rate: €10 / Concession: €8.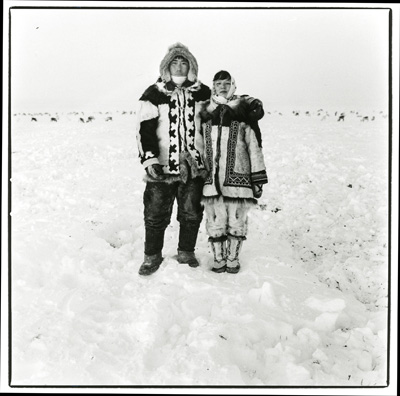 Reideer farms couple of the region of Novorybnoïe.
They are among the rare to move around all year, at the rhythm of their herds.
© Nicolas Mingasson - Observatoire Photographique des Pôles
Musée de l'Homme
17, place du Trocadéro
75016 Paris
France
Tel: +33 (0)1 44 05 72 72
Metro: Trocadéro (lines 6 and 9).