For the 1st time at Chaillot, Jann Gallois presents "Quintette"
---
As of today, and until April 4th, 2018, the théâtre national de Chaillot welcomes for the very first time the French choreographer Jann Gallois and her dance troupe BurnOut, founded in 2012. Born in 1988 in a family of professional musicians, Jann Gallois received very early on a musical training at the conservatoire.
An exceptional journey, from music to dance
In 2004, she was introduced to hip-hop and spent 3 years exploring every aspect of this dance style. After creating some solo et duo choreographies such as "P=mg" (2013) (which received 9 international awards) and "Compact" (2016), she returns this time with a group work, accompanied by BurnOut's four other dancers. For this new piece entitled "Quintette" (2017), she combined her knowledge of music, dance and mathematics, and imagined a unique and hybrid show. She partnered up with electronic music composer Alexandre Bouvier and the violonist Grégoire Simon, from the Ensemble Intercontemporain, who composed a musical piece inspired by "Phasing", a composition process invented by Steve Reich and Terry Riley during 1960s. This multidisciplinary and original performance is available just a few-minute walk away from the Green Hotels Paris, the Eiffel Trocadéro and the Gavarni.
"Quintette" by Jann Gallois, from March 29th to April 4th, 2018.
Shows at 7:45 or 8:30, according to the dates.
Full fare: €37 / Concessions: €29 / Youth fare: €11 and €13.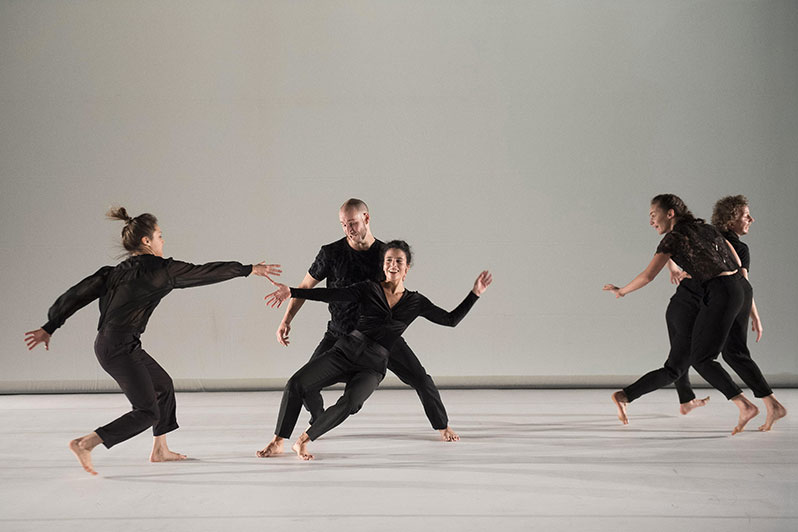 Quintette © Laurent Philippe
Théâtre National de Chaillot
1, place du Trocadéro
75016 Paris
France
Tel: +33 (0)1 53 65 30 00
Metro: Trocadéro (lines 6 and 9) or Iéna (line 9).