Annabelle Bonnéry presents "Two, seul" at the Théâtre National de Chaillot
---
From the 15th until the 17th of February 2018, the French choreographer Annabelle Bonnéry and her troop of dancers, musicians and singers are performing at the théâtre National de Chaillot. After her 2012 show "Exquises", which she presented at the French capital, Annabelle Bonnéry, who first worked as a dancer in the companies of Jean-Claude Gallotta and Maguy Marin, returns with a representation where she transcends her artistic and cultural limits. Indeed, since 2012, it's in Burkina Faso that she chose to prepare the new chapter of her career. On stage, she gathers a team of diverse but complementary talents, including the Congolese countertenor Serge Kakudji who revisits Vivaldi's "Stabat Mater", the main musical composition of the show. Annabelle Bonnéry builds her universe around the element of earth, that she considers being life's fundamental material. The dancers (with whom she performs) move in solo, duet, and then as a trio, on either a terracotta-tiled or a mud-bricked floor, which comes together and comes undone, just like the individual is born and then dies. This fascinating show is available just a few-minute walk away from the Green Hotels Paris, the Eiffel Trocadéro and the Gavarni.
"Two, seul" d'Annabelle Bonnéry, from February 15th to February 17th, 2018.
Thursday, February 15th, 2018 at 8:30p.m., Friday, February 16th, 2018 at 7:45p.m., and on Saturday, February 17th , 2018 at 3:30p.m.
Full rate: €37 / Concessions: €29 / Youth fare: €11 and €13.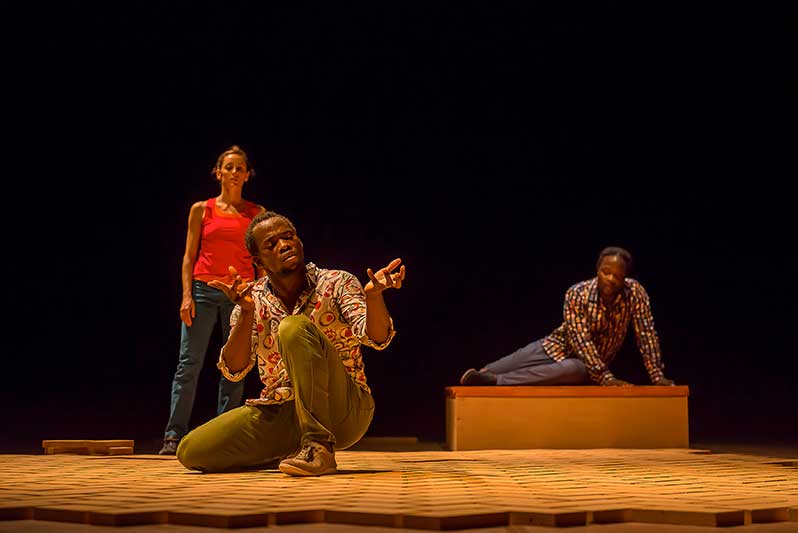 Two, seul © Christian Rausch
Théâtre National de Chaillot
1, place du Trocadéro
75016 Paris
France
Tel: +33 (0)1 53 65 30 00
Metro: Trocadéro (lines 6 and 9) or Iéna (line 9).