Exhibition: Viollet-le-Duc, les visions d'un architecte
---
To celebrate the 200th anniversary of the birth of Eugène Viollet-le-Duc (1814-1879), the Cité de l'Architecture et du Patrimoine is holding a great retrospective dedicated to this French architect and theorist of the 19th century who was fascinated by the Middle Ages. He is mostly famous for his interpretive "restorations" of medieval buildings, such as Notre Dame de Paris Cathedral. The exhibition retraces the construction of the Sainte-Chapelle in Paris and also includes maps drawn by the architect, such as that of the Mont-Blanc massif.
"Viollet-le-Duc, les visions d'un architecte" exhibition, from November 20th 2014 to March 9th 2015.
Open on Monday, Wednesday, Friday, and on the weekends, from 11am to 7pm.
Late opening on Thursday until 9pm.
Closed on Tuesday.
Full rate: €9 / Reduced rate: €6 / Free entrance for children under age 12.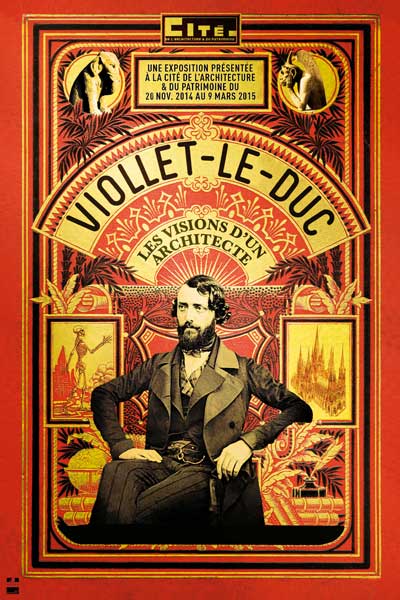 Poster of the exhibition, illustrated by Paul Souze. Paris, J. Hetzel, 1889
Portrait of Eugène-Emmanuel Viollet-le-Duc, daguerreotype, circa 1840, anonymous.
© Centre des monuments nationaux/ Philippe Berthé photographe
CAPA/Conception Guillaume Lebigre/Keva Epale, 2014
Cité de l'architecture et du patrimoine
1, place du Trocadéro
75116 Paris
France
Tel: +33 (0)1 58 51 52 00
Metro: Trocadéro (lines 6 and 9).